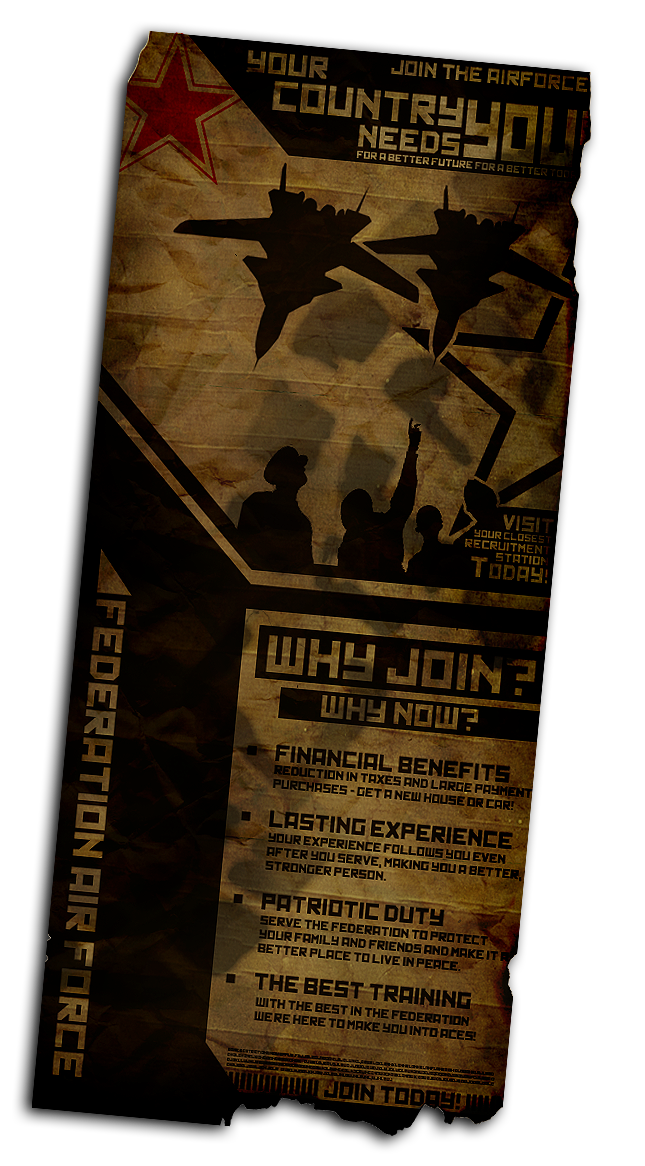 Hello and welcome to another addition to the ROTR News lineup!
Our release is finally closing in after certain delays but is now underway. Hate to say it but alas, you'll see soon enough! Now before I get any more mails concerning how 'soon' is soon, let's move on to the new additions to the mod shall we? We're be fixing to post the video soon and you can be assured that the release is right around the corner. For this update, if you have not noticed will revolve around our new Federation Airforce structures, and a new way the Russians will assemble and scramble their Airforce. Let's take a look at the renders and we'll talk about it for a brief moment.
After 2030, the Russian Air Force modernized itself further and there were even some changes to how to it operated. With the European Invasion being a convenient opportunity, the VVS put its new arm into action. A small number of fast response squadrons handling interception, reconnaissance and close air support that exclusively operated on the frontline. These men and women were once fresh recruits but quickly became battle hardened in these few years and have seen and lived through more combat than any other pilots of their generation. The lives of these pilots are popular material of modern novels and movies. 'Red Squadron' the partially fictional story of an infamous fighter wing that flew and dominated Europe's skies was Russia's bestselling book and movie for over 2 years and has won international acclaim.
The Russian rotary wing assault is relentless. There are many sorties taking place at once and the volume of aircraft is difficult to manage and to maintain. That is when the Russian Air Force decentralized rotary wing command. A Russian helipad is actually one of the many rotary wing forward command posts active all over the world. They have the supplies and manpower to launch air assaults for entire weeks. They function in a network system; if one is destroyed a second helipad in the vicinity quickly takes its place until a new one is built to replace it. So far the helicopters of the Federation have been a difficult threat to contain.
-----
Now our reasons for doing this was to knock out 2 birds with one stone. One we've updated our airfield and now used one of our own updated models and we've differentiated the Russian air force from other factions. One major change in this is the requirement of a General Power point to unlock the VVS support, or that is the Russian Airforce to create the airfield and deploy Berkuts and Frogfoots. This has replaced the Werewolf unlock and is now a standard with the rest of the Russian Helicopter gunships readily available at the new Russian helipad which is by default, available from the start. With this we hope it will make Russian players decide their strategy early in the game and balance out the already monstrous capacity Russia is capable of, that is of course if your wallet can handle it.
That sums it up. We hope you have enjoyed this update and hope you'll like the last bit as well. I'd like to mention that we're on the last few bits of the internal version and you should see the release relatively soon as fast as we can detect small bugs and make sure things are alright for the release. We hope you have enjoyed at least seeing this additions and hope to see you soon :)
Signing off,
~ The SWR Team