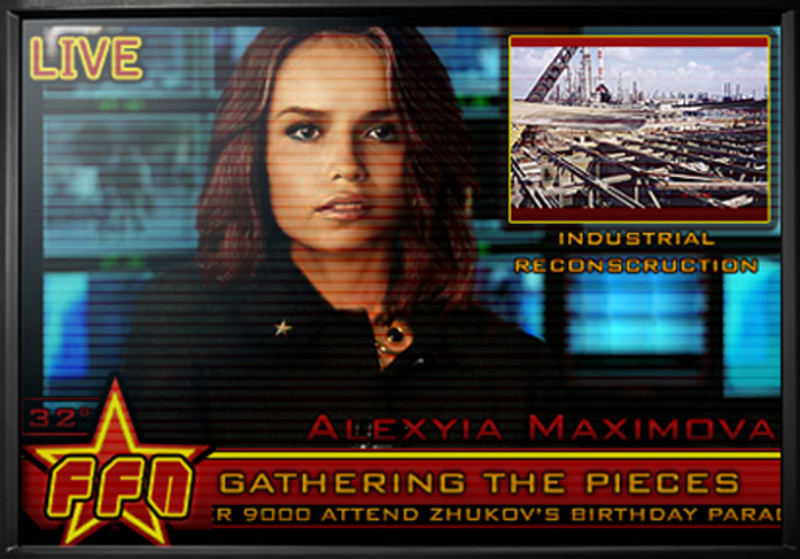 Good evening comrades, this is Alexyia Maximova from Federation Front News bringing you a special news report. As you well know the Federation had a major victory at the battle of Berlin. The Federation is working hard at this time to restore the city's industrial output. The same factories that once manufactured weapons and munitions for our enemies will soon work against them. This major feat will allow us to manufacture supplies from within European territory, allowing aid to arrive more swiftly and safely where it's needed.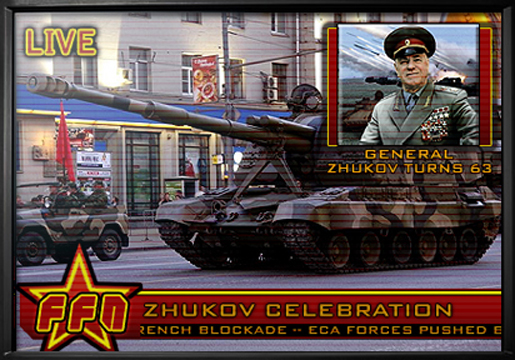 Comrade General Zhukov turned 63 this weekend. He was flown back to Moscow and a parade was held at Red Square in his celebration. Comrade General Aleksandr and Comrade General Orlov were also in Moscow. The three generals met with President Suvorov to discuss the state of the war. President Suvorov is nearing the end of his election term much to the dismay of our people. So far he has not announced a successor but he is expected to do so in the coming months.
If this is the first time you are watching our broadcast then welcome, it is an honor to be in your service. The Federation Front News is now transmitting in all of Europe to keep you updated on this war and on the great feats and victories the Federation accomplishes. Our signal is being distributed all over our glorious Federation as well as our occupied territories, so you'll always get our message clearly. As always this is Alexyia Maximova for FFN , see you next time, and stay safe.
------------------------------------------------------------------------
Hello ROTR Fans!
We're back with a new update for you today but first we'd like to thank every single one of you for the encouragement and support you have given us throughout the development of Rise of the Reds. Without you, we may not have even existed
. We thank those fans that have voted for us for the ModDB Top 100 Awards and regardless of what the outcome may be, we couldn't have done it without you! But now lets move on to the newest developments for the mod shall we?
First up, a new line of vehicles planned for the Russian Generals, read on for more information, and most of all, enjoy!
T-64 MBT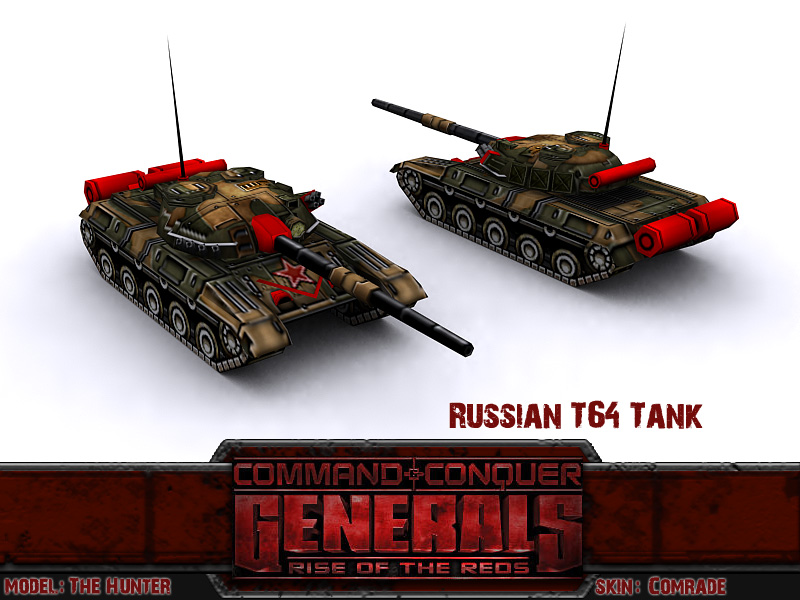 The T-64 is the oldest tank in service in the Federation. They are used in the field primarily to boost the manpower of Russian forces and are treated like expendable assets. They arrive on the battlefield through means of paradrop and their crews are eager conscripts looking for protection inside the tank. The T-64 is to Russian armor what the Conscripts are for infantry. They are meant to be mere cannon fodder to draw attention of enemy fire from the more expensive and more battle suited Kodiaks.
The T-64 might not be assembled anymore but the Federation still has massive numbers ready at their disposal as long they can manage to crew them. This is due to the fact the Federation holds large quantities of them inside bunkers all across Russia waiting for the day to put them into use. It is rumored some of these bunkers remained undetected in Europe since the days of the Iron Curtain.
BRDM-1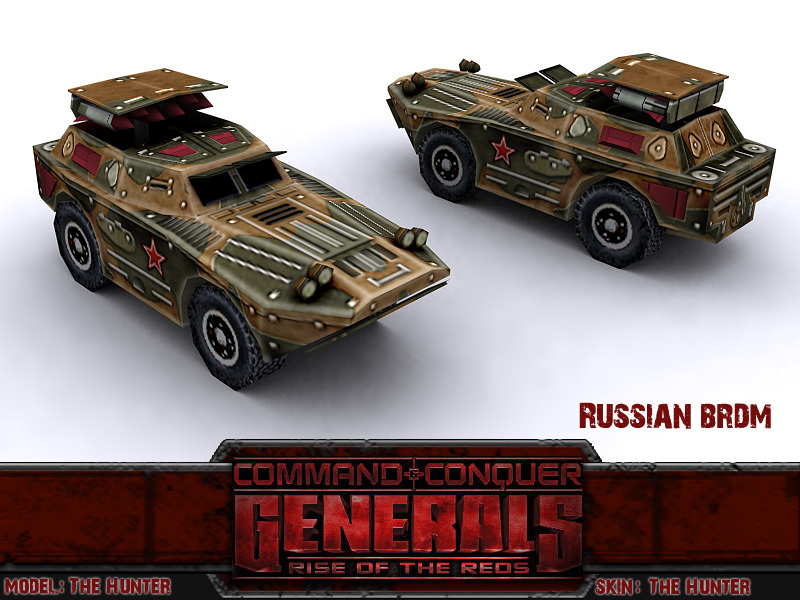 This amphibious scout vehicle is also used by the Federation in the same manner as the T-64s. They are capable in art of harassing the enemy and are speedy when compared to other Russian vehicles. They are not made to take out targets in their own but with rather support from other units or when used in larger numbers together.
They have a distinct firing sound making the enemies aware of their presence quickly. A conscript claims he loves the four belly wheels so much, he would marry each one. When asked why he explained "Big tires on belly! Just like my wife in Novosibirsk!"
These vehicles, amongst perhaps more, will become available through the new General Power calling forth armored reserves to call in for your disposal. As stated they will be required to man as they arrive. While they're combat efficiency may not be on par with the Kodiak or any of the MBT's, they'll serve well in distraction, flanking operations and even as units to bolster your attack force.
As an addition to this update, we now have new userbars for you to use:





We hope you have enjoyed this update and we'll see you soon for Under the Spotlight and Meet the Generals! Stay safe and see you soon!
~SWR Team