Greetings. Our team is making good progress towards the completion of version 1.85, but there are many small changes or additions during development that occur spontaneously or outside the original schedule. Since we don't want to shoe-horn these miscellaneous additions into the pre-written story updates or disrupt their chronological order, we have recently decided to label such bite-sized showcases as 'Blog Updates', the first of which we are presenting right now. Expect more of these irregular updates on our path to 1.85. Before we get to the renders of today's update, we would also like to inform you of a new community feature: Today was the day of our first ROTR livestream hosted by the ever-helpful Hecthor Doomhammer over at Twitch.tv. We will be trying to deliver these streams on a regular basis, with each one including an exclusive peek at our current internal beta as well as commentary and information from The_Hunter himself. You can also check out Hecthor's other streams of popular C&C projects, including Mental Omega, Red Resurrection, Attacque Superior and Twisted Insurrection.
Despite their work being the stuff of legends among GLA sympathisers around the world, the names of the original creators of the Marauder self-propelled assault gun will most likely remain a historical mystery. All that is known is that a group of five Middle Eastern revolutionaries released a viral video on the internet in the late 2010s in which they provided a literal step-by-step 'tutorial' on how to build a crude armoured fighting vehicle using off-the-shelf tools, metal scraps and a truck engine. Most preposterously, the guide suggested that an externally mounted camera connected to a consumer-grade television and a re-wired videogame pad could be used to monitor the vehicle's surroundings and help control its movement. This raw ingenuity did not go unnoticed by the Global Liberation Army, whose followers in Central Asia, the Middle East and North Africa soon followed their example and proceeded to build their own 'tanks' to engage Chinese and American forces head-on, with faith, courage and craftiness making up for a lack of modern machinery. Indeed, the life of a GLA tanker has been a dangerous one ever since the start of the Global War On Terror but those who managed to survive throughout the decades have become hardened veterans and their heavily customised Marauder tanks are a testament of this experience. Armed with a powerful 130mm gun howitzer and protected by a variety of armour scraps cobbled together from foreign tanks of various ages and nationalities, the Marauder remains the most lethal ground combat vehicle in the arsenal of Warlord Anwar Sulaymaan and should never be underestimated. By the early 2040s, many Marauder crews had figured out how to equip their vehicles with fully rotating turrets without deminishing their engine power during a forward charge, thus finally turning their Marauders into actual tanks at long last.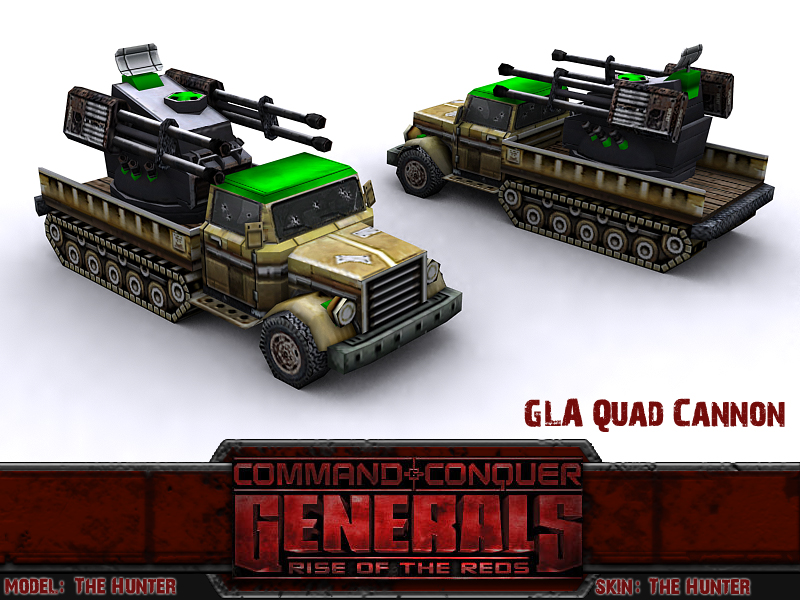 Despite being one of the crudest, most no-frills weapons in the GLA's arsenal, the venerable Quad Cannon is also one of the most dangerous. Cheap and simple to manufacture, its four powerful 14.5mm KPV machine guns tear through light vehicles and aircraft hulls alike while making a gory mess out of hapless infantry. Salvage upgrades and armour-piercing ammunition only add to the Quad's raw, rapid fire killing power, which makes it a useful complement to any GLA combat force whether on the offence or defence.