Poster
To get the multi million dollar print marketing campaign for Last Knight rolling the marketing guy of Toco Games made a poster! (the marketing guy is also me)
It is heavily inspired by 80s action movie posters (explosions everywhere and a huge body count) and there is also a little of the Star Trek reboot aesthetic in it (huge lens flares everywhere!). I have to admit though that I might have pushed it a bit much to the extreme, behold: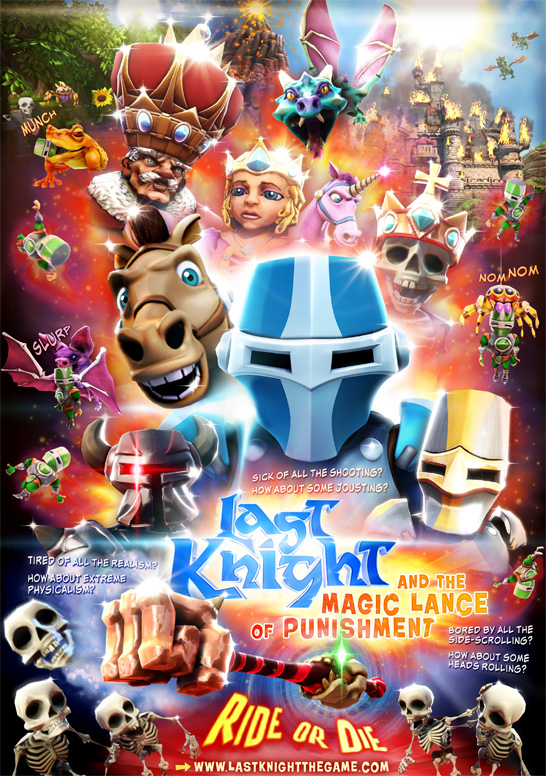 Obviously that with the multi million dollar print marketing campaign was just a joke. In fact my overall marketing budget is basically zero dollars. So it will only hang here at my home. Just in case anyone here is into posters and would like to get it printed somewhere here is the high res version: Tocogames.com
Anyway, I also decided to replace the box art with a version of the poster. That old box art looks kinda simple in comparison now.
Youtube Videos
There have been several new Youtube Videos popping up. Matt Shea did already 2 videos of the new 1.1 version. He played so much that he even unlocked the first person view in the time since the 1.1 release! He shows that as well as some other cool unlocks in this video:
Here is that first video from him where he also nicely shows the different stuff that is in Last Knight:
Youtube.com
Several people asked me about a demo for Last Knight but my answer to that is that there is currently no plan for a demo. It is also tricky to make and I have currently other priorities, like adding more cool things to the game and trying to spread the word about the game (with my zero dollar budget) while also having to do some Freelance work in between and pushing the Greenlight campaign. Please give it a vote if you should have not yet!
Everyone who purchases it on the website or any of the stores listed on: Lastknightthegame.com will also get a Steam key when it makes it through Greenlight.
I hope, for everyone that likes to get a better impression of the game before making any purchase decision, the Youtube videos are also a nice alternative to a demo.
- If you are German here is a fun German video by IndieCable:
Youtube.com
- Here is a nice one by MisterTomScott:
Youtube.com
- Here is the recording of the streaming of Last Knight by Green Lit Gaming:
Youtube.com
They might also stream more Last Knight in the future. They also wrote a preview on the game here:
Greenlitgaming.com I love this quote: "Its just damn fun. That is why we play games, right? "
- If you are Russian, here is one for you by LetsPlayPoRusski
Youtube.com
(I could not understand anything in that but he seems to be a really popular Russian Youtuber)
I also made a Youtube Playlist with also the older videos included here:
Youtube.com