As announ­ced in my last post, we have now imple­men­ted some light effects for the indi­vi­dual colors. But those are not the only chan­ges we have made. Thanks to your feed­back, it was pos­si­ble to make some great impro­ve­ments to our col­li­sion sys­tem. Howe­ver there were some addi­tio­nal tech­ni­cal and logi­cal pro­blems to solve, so sadly not every bug could be fixed. But we've resol­ved quite many. And now that we've syn­chro­ni­zed our bug-tracker, our tes­ters can also see what has chan­ged. In addi­tion we also impro­ved the CPU per­for­mance of our game.
In our new Dev-Demo you can see two new light based effects. In the nor­mal solid world there are drif­ting wafts of fog. In the red light you will reco­gnize a fli­cke­ring heat haze in the back­ground. To avoid more GPU usage, we opti­mi­zed some other shaders and ren­de­ring pro­ce­du­res. Both effects use texture-lookups. While the grey fog uses a blur­red noise tex­ture, the red one chan­ges the ren­der tar­get lookup in addi­tion.
The effects are won­der­ful to manage and easy to modify, and we'd love you to post your thoughts in our forum. The red fli­cke­ring effects for instance, have alre­ady gone through ano­ther ite­ra­tion due to inter­nal feed­back. In the fol­lo­wing figure you can see some nice effects, some more inten­tio­nal than others, which occur­red during the imple­men­ta­tion of the red light effect.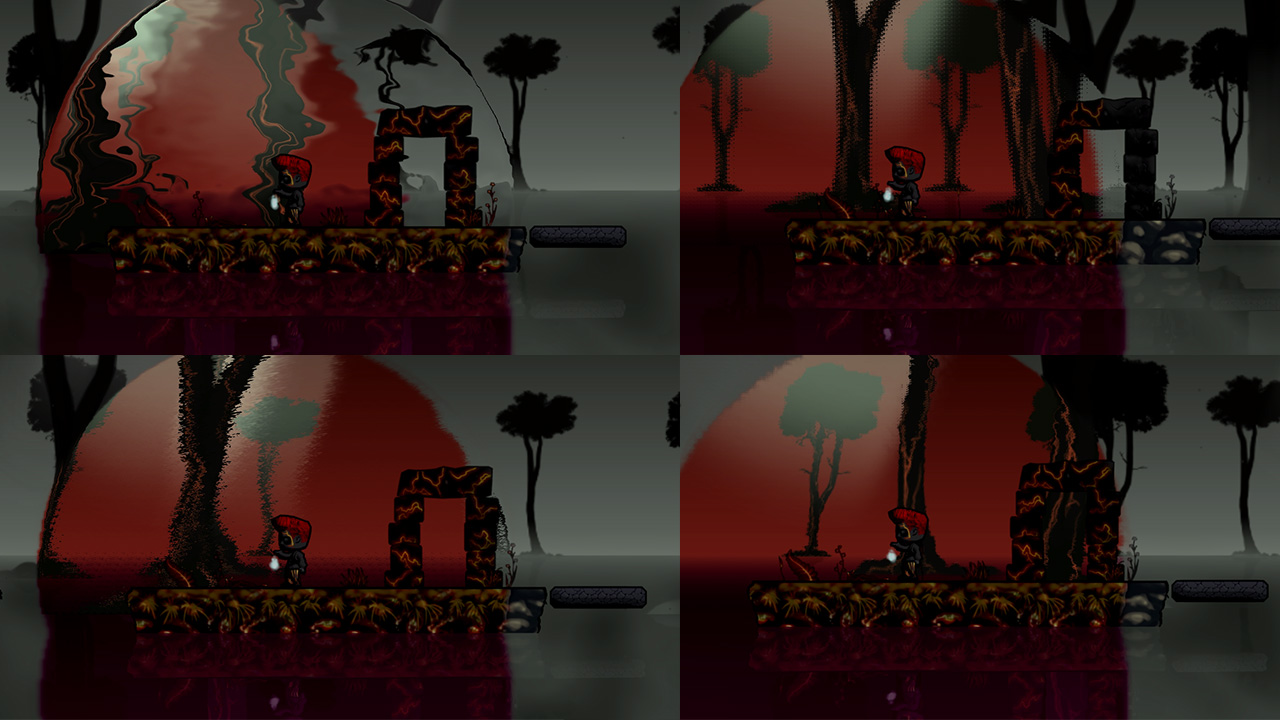 In my next post I will dis­cuss the upco­m­ing effects. Fur­ther­more we will take a look into the opti­miza­tion steps to achieve a hig­her frame rate. In the new log-file you can alre­ady see some detailed infor­ma­tion about your hard­ware. This is hel­pful for debug­ging and maybe also for your own curiosity.
Check out our Dev-Demo!