"Its Back!... Again!"
Bad Fur Day Remake is back with a new engine, new ideas and new graphics. Bad Fur Day Remake has migrated from "Torque Game Engine 1.5.2" to the new "Torque 3D" engine (Binary). This exciting change for BFDR has resulted in numerous advantages and well as some disadvantages.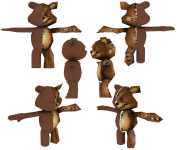 Bad Fur Day Remake was originally going to be an exact remake of the classic N64 game with the exception of the port from the Nintendo 64 to the PC; but times have changed. The engine change was intentional to allow new and improved graphics. Does this mean that it will look different from the original Conker's Bad Fur Day game? The answer is yes and no; the graphics are being updated or upgraded as seen from the image on the side but the overall style will be the same. The only difference's you'll notice will be the improved visuals, the game play will be the same (Exception of N64 to PC).
"How can I help?"

We're currently looking for someone to create new audio for BFDR. We are also looking for Texture Artists to create textures for the new 3D model unwraps and recreate the textures from Conker's Bad Fur Day.
"I want to help out but I can't commit to working long term on the project?" No time, no worries. We have a section on the Packers Remakes Forums called Community Submission that will contain a list of textures, files and audio that will be needed. Community members can jump on the forums, find audio files or textures that need doing and repost their finished work back onto the forums to later get implemented into the game. This will help reduce the work load for anyone working on BFDR and allow the community to help create Bad Fur Day Remake without any long term commitment.