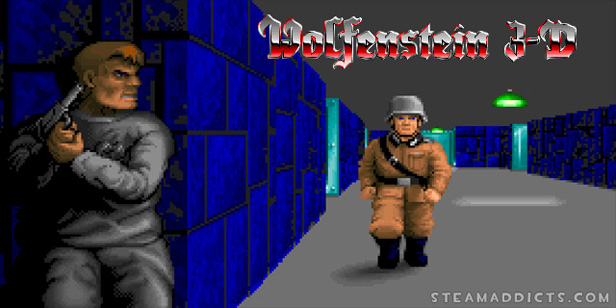 Ah the 90's, the most important decade for the videogames. Better and new consoles, better games, revolutionary games such as Doom, Quake and of course Wolfenstein. But I'm here to talk about Wolfenstein 3D and why it became what it is today.
First of all, Wolfenstein 3D was launched in 1992 originally for DOS, developed by Id Software. Wolfenstein was another "BOOM" of the videogame industry, it has brought a new taste to the games, it was considered the first 3D game and also the pioneer of the FPS genre.
The game starts with you controlling William "B.J." Blazkowicz, an captured allied special agent during the WW2 in the Castle Wolfenstein, the name of the game. B.J needs to escape the prison, killing the guards, retrieve intel, destroy projects of biological weaponry and also destroy evil experiments againt humans, the game also has final boss fights, which put you to fight with key persons of the nazi army, like Hitler. You have the option to use three weapons, a pistol, a machine gun, a chaingun and a knife. To pass through the levels you have to make your way through the map to an elevator, that brings you to the next level.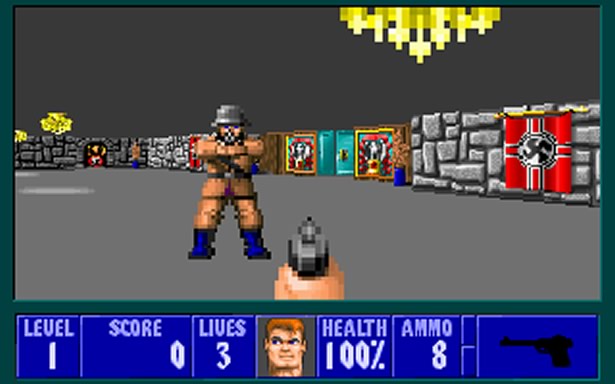 Wolfenstein is probably the biggest idea in the history of videogames, with it's innovative engine, introducing a rendering to the walls in pseudo-3D, the game uses ray casting. This technique emits one ray for each column of pixels, checks if it intersects a wall, and draws textures on the screen accordingly, creating a one dimensional depth buffer against which to clip the scaled sprites that represent enemies, powerups, and props. Nothing was modelated, everything was in 3D, everybody that played this game in that time must have had the sensation of really being in a room.
Although, the lighting effects are pretty simple, the use of brightness is the same in every corner and the terrain is always flat, there's no stairs of elevations as we see in Doom, but that's another story.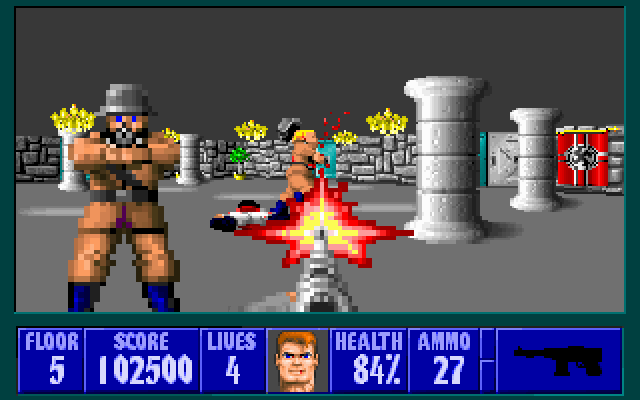 Also , Wolfenstein 3D was innovative in a genre never seen before, bringing what every game has today, HUD. Wolfenstein 3D is not the first game using this kind of 3D, there were also Catacomb 3D and Hovertank 3D , but not so much revolutionary and good as Wolfenstein 3D had to offer, much action, challenging bosses, good variety of levels even for DOS and also brought one of the first "real" violent kills we saw, there is an explicit view of blood getting out of a person, today we say "damn how it's awful", but in that time violence and blood was something pretty hard to find.
Another polemic thing about Wolfenstein 3D is all the nazi simbols we see through the game, flags and Hitler pictures all over the levels and represent another thing not usual to see in the videogames.
Wolfenstein 3D had a sequel, named Spear of Destiny, also developed by Id Software. It passes before Wolfenstein 3D, where Hitler seeks for the Spear of Destiny, which was embedded in the chest of Jesus when he was on the cross. According to the legend, the person who has it will have invincibility to him and his army, and it's up to B.J to stop him.
The fans of Wolfenstein 3D and Spear of Destiny also made mods for them using the same engine, some of them have more weapons and variety of maps than the original ones, some maps we can give as example is Coming of the Storm and Chokage, as well as many others.
Wolfenstein 3D for me is more than a game, is "The Game". It has brought a new genre of game, revolutionary changes to the games like teh use of HUD screen with bullet, weapons and health indicator better exposed, also with it's polemic violence, it was essential for the development of another game by the same developers, Doom. Wolfenstein 3D is another example of game that turned everybody's head a way nobody ever did, also, is so innovative his legacy will continue , and growing up, because everybody has to know that most part of the games we see and will see, began on the surfaces of this one.