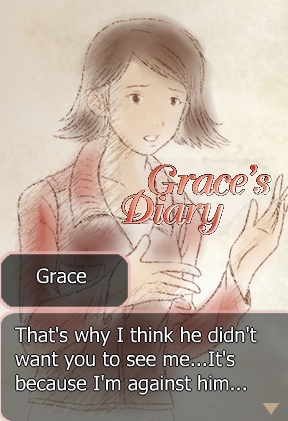 Review: Grace's Diary
I'm going to talk to Natalie today. She hasn't talked to me for a month, and I'm pretty sure it's because Ken told her not to. I think it's about time I tell her what I think. Maybe I should think carefully... hopefully, she'll listen to me.
Sometimes games are just there for us when we want to have some fun, blow up the princess, and save the zombies, or something like that. Other times, we want to explore more difficult and painful stories. Grace's Diary by GPTouch manages to seamlessly integrate the theme of relationship abuse into a sensitive and moving visual novel. It won first prize in a game design contest by Jennifer Ann's Group, a charity against teen dating violence.
---
Read the rest of the review at JAYisGames