The first playable character class in the game is now to be revealed;
The Elf Druid - Elven Society Mental class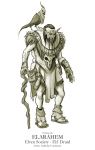 "Druids are close to the nature, but also the one of the Elves that is most likely to talk to a member of another race, since they possess great insight in the psyche of others. Elves has also learned that it is not through war that you get what you want, but through negotiation, wich Druids are exceptional for."
- In-game description of the Druid
Click the image above to see the sweet Druid that Anthony Cournoyer drew for Elarahem. It's alot inspired by WarCraft, as he said himself.
I believe that the Concept-Artists will really provide a new dimension to the game, as the player will be able to relate more to the characters if they actually see how they could look. Anthonys clean, manga-style of drawing will hopefully later on be contrasted by totally different drawings by artists that use a whole other technique. Just what we were looking for!
The progress on the game is currently a little slower than usual, due to the fact that school and work has begun again for most people working on the game. Hopefully we'll be back and working again soon! But of course, we haven't been completely lost to apathy. The entire Character Info-screen has been completed - allowing players to modify their feats, attributes and abilities - as well as viewing their XP-status, level and much more.
Also, a primary world-map, wich is going to be used later when we design the travel-system, has been made. Currently there are three lands (The Empire/Rebel Settlements/Elven Society) and each of them has three cities, of which one is the Capital city. The names of all these are under consideration so we prefer not to mention them yet... Though there will also be two pretty big islands between the major lands, currently called Northern and Southern Tradia. These will function as connection-points when traveling, and a meetingplace for players from different Unions. Most likely, you will not be able to attack other players on the Tradia islands (if we are going to add PvP battles into the game, that is).