Regarding Stackout, Daniele deals primarily with the code. But he's also a graphic designer and illustrator (a professional one, instead of the amateurish Fabian :D), and this means that working on a project in which Daniele does not deal with the graphical part is hard for him. Very hard. In more than a decade working, he can not even remember a single time that he was satisfied with the work of another graphic person. Well, he's one scassacazzi, if you'll pardon the russian. And here we are - finally, Daniele is close to being satisfied. Fabian did a great job, creative, full of verve. We really enjoy it. This mockup, whose style Daniele likes to call retro circus, it's brilliant.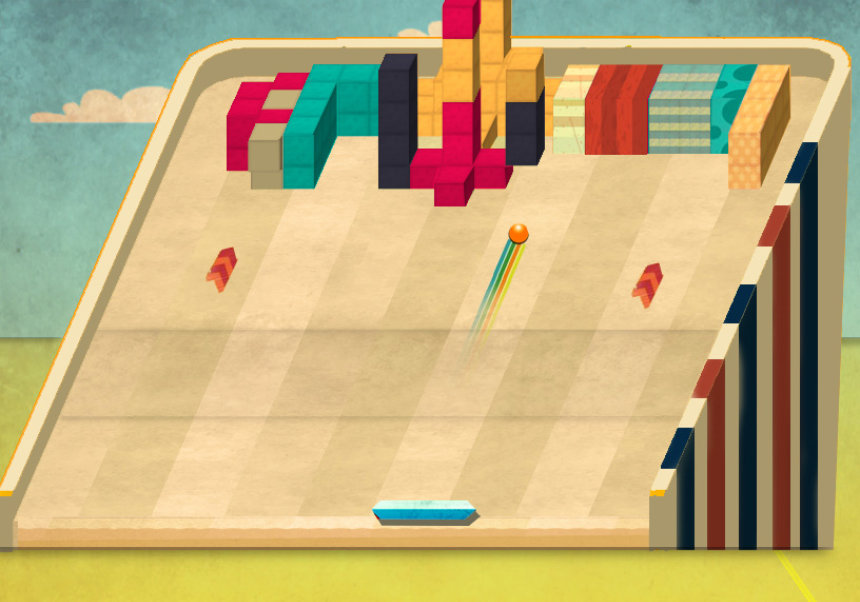 One of the characteristics of Fabian is the use of colors. He weirdly uses and combines colors that would normally be untouchable, and manages to pull off a coherent and harmonic style. In addition he can cope with 3D modeling within the same style, something strangely rare in a world in which we try to achieve higher or lower heights of realism, and we forget how important personality is.
Initially, we started from the idea of having the game field as seen from above, with a slight inclination. And to go all crazy we wanted it to be displayed in a prerendered arcade cabin. Some tests and discussion later, and the arcade idea was thrown overboard. It was ugly, took up too much space, and drowned graphics.
In the next step, Fabian then set up a new perspective, isometric but distorted (with a horizontal skew). It looked interesting but how could we know of the bugs that this can cause within Unity3d.
Thankfully after a first prototype, we realized that it was playable and an interesting little twist on the genre. However, it all still lacked personality. There was no PUFF and POW yet !
Sooooo, we had to go back to the drawing board. We wanted to have some actual 3d objects that are tied within this world. Strange ones but it should feel like a little world in there. First tests proved promising, almost perfect for our project, but we ended up arguing back and forth on the edges of the game field and how they were not really in keeping in tune with the rest.
Then came the mockup you see above. The edges are now part of the game and much more original and personal as we had hoped for - classic circus graphics of the past. Retro circus ! Magnificent. No more discussion - only acknowledged satisfaction.
And now, here is an animated GIF with all the changes for Stackout: