Greetings Everyone,
It has been a long time coming but Desert Owl Games is happy to announce the return of the Doombringers along with the release date for Expansion 26!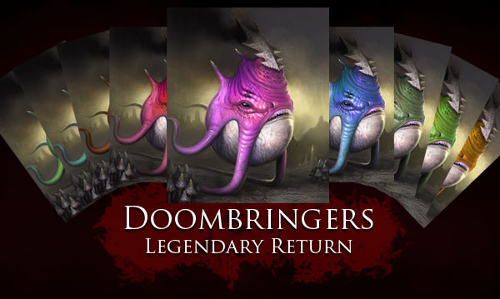 Legendary Doombringers
The formerly Limited Edition apocalyptic beings known as the Doombringers have been re-released as Legendary runes. All eight faction Doombringers are now available in the Rune Forge for crafting. Yes, no packs required. Anyone with enough shards will be able to have one of these balls of Doom!
Limited Time Shard Packs
Two Shard Packs have been added to the Pox Nora Marketplace for a limited time to give everyone the ability to craft any rune available in the forge. The normal Shard Pack comes with 800 Shards while the Deluxe Shard Pack contains a whopping 4000 Shards! These packs will only be available until August 19th.
Expansion 26 Release Day
Pox Nora's 26th expansion, Path of De'lim, will be released on August 19th. Not only will this expansion include new runes, abilities, campaigns, features, balances improvements, and fixes, but it will also revisit some of the older Pox Nora runes to give a new spin on some classics.
For full details of all of this along with the newest for expansion 26 be sure to see the Official Forum Post.
See you on the battlefield!
The Pox Nora Team