We apologise for the delay (And we love you for being used to them by now), we had trouble implimenting the advanced shaders by cnl_pepper (Or more accurately, have no mapping competance to make maps with apropriate lighting), and in the end opted to take ones with default lighting.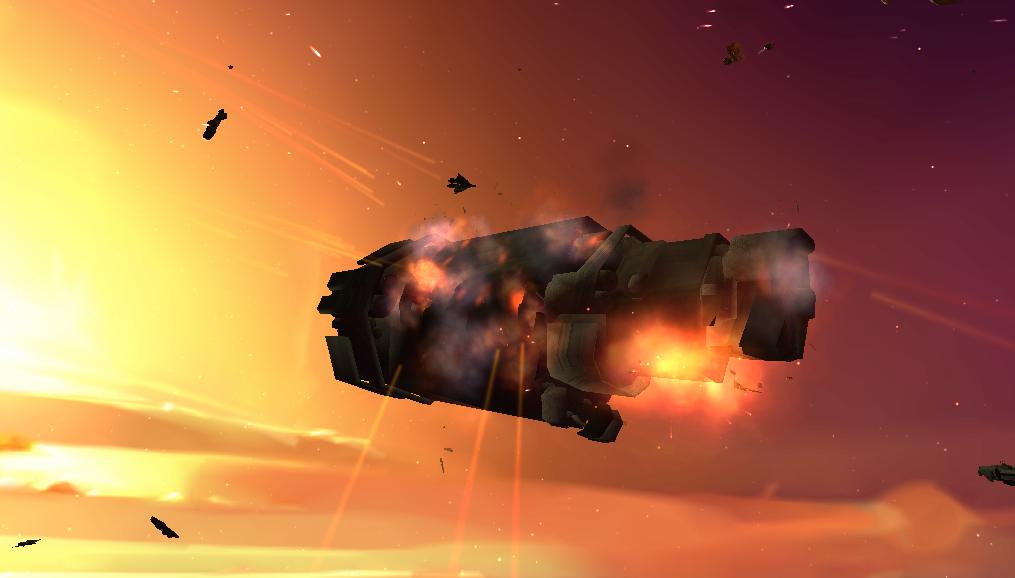 - A Halcyon in it's dying throes. Check the gallery for more screenshots in-game
However, the update on the ships in-game is the secondary reason for the update, and we are proud to present you with the out-line for our custom resourcing system which isn't far off being completed:
The original system relied on small fields of asteroids which could be mined by collectors which would typically ferry the resources a short way to controlers for processing, This system fit the original game and the setting, however doesn't quite fit the halo-verse which has no way to process asteroids and dust into workable titanium for use in building.
Another problem is the static-nature of the system, in which "raiding" typically didn't occur, and harassing resource operations typically meant destroying an entire field of collectors, and you typically would not do much after ordering units to harvest.
One of our earlier ideas was to have randomly spawned freighters arrive on the map and require an escort back to your shipyard, with your enemy being able to see these on their map and dispatch interceptors, however there are obvious problems with this, aswell as a few problems concerning it's implimentation.
However, we liked the idea of having to escort freighters, and rather than randomly spawned shipments, we decided to go with "supply lines" which would be ripe for raiding, blockading, etc. A small number of capturable supply points would result in greater competition between players over each point, and placing them a good distance from the player's starting point would stretch supply lines and force players to defend them. The actual supply points would be heavily defended, similar to the original game's system, however the stretched supply lines back to the shipyard would require much more flexible defence, revolving around patrols and guards, rather than moving a single large block of ships from point to point to defend everything at once.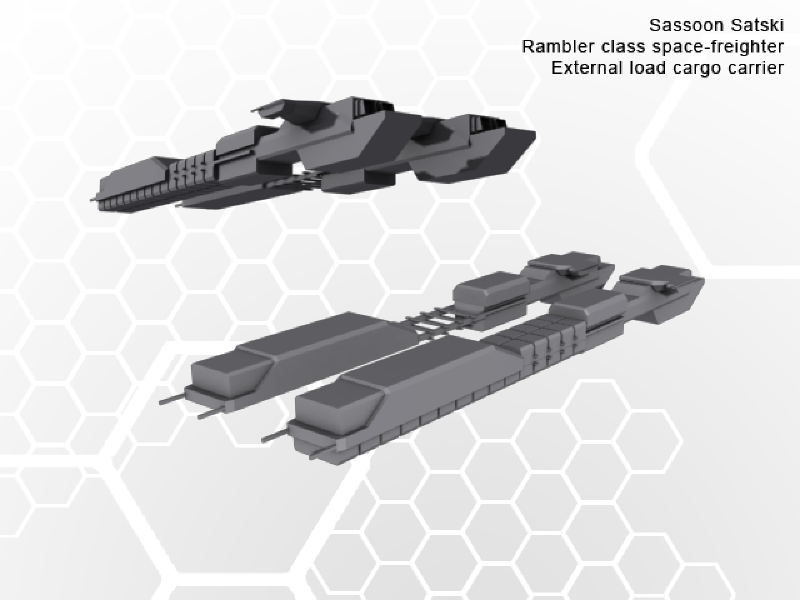 The only question was the supply points, and what exactly they would be. The best solution we found was simply to write them off as fore-runner megaliths with automated mining facilities running through them, built into large metal-rich asteroids, where after a bit of a kick by some boarding parties, the sentinels and automated machines go back to harvesting the metalic content of the asteroid and processing it into usable blocks and sheets for use else-where. Freighters dock with the facility, load up on the processed metals, and set off again for the local friendly shipyard so it can all be turned into shiny new frigates.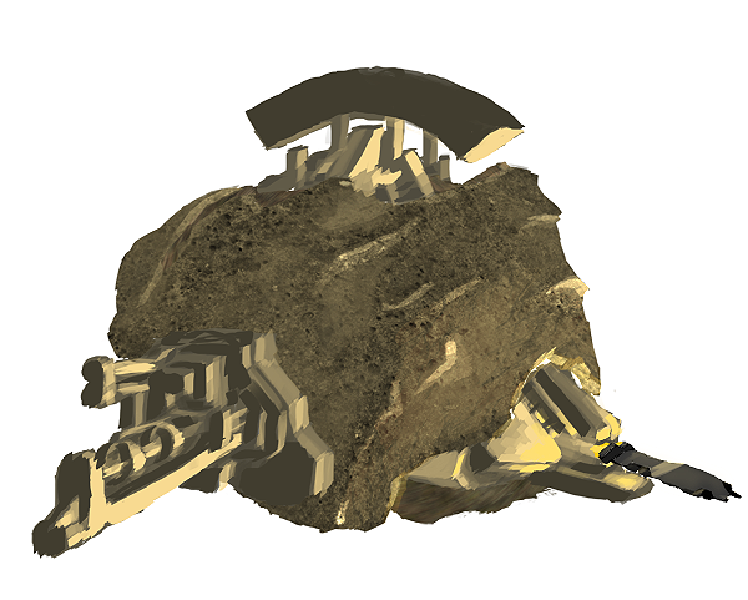 A basic (And poorly scaled) concept for the forerunner asteroids. The end result will have a larger asteroid to facility ratio, and won't be golden.