===========================================================
[Resident Evil 3 (1999) Overhaul Mod] - The Lord of the Necropolis
Version 1.1.2 (November 25th, 2021)
===========================================================
Version 1.1.2 is available. It fixes the following bugs:
1) If Jill gets the Blue Herb in the graveyard hut before the Carlos scenario begins,
the Chronos Chain or Gun Powder C in the clock tower machine room will disappear
2) If you go out through the door next to the warehouse container after Dario's death,
the background will not be displayed correctly when you re-enter the warehouse.
3) The new ending is opened even in Easy Mode.
4) Carlos can use "Time Stop" .
Description:
Resident Evil 3(1999) Overhaul MOD "The Lord of the Necropolis" is a major expansion of Classic RE3.
In Ver.1.1.0, the new ending that I gave up implementation in Ver.1.0 due to lack of my technical ability and time is added. Many other changes have been added, such as expansion of police station, a new route after jumping off the cable car, merchants and so on. The game balance has been adjusted so that more Resident Evil fans will be able to enjoy the MOD. The new skill "tackle" and the new shooting objects "generator"and "flour bags" will be very useful in the early stages.
I hope a lot of RE fans can remember the fear and sense of accomplishment when they first played the classic series of Resident Evil.
[note] Route for the new ending [NOT EASY MODE]
1) Defeat Nemesis 6 times or more * Including Boss battle / Carlos Scenario
2) Jump off the cable car
3) Don't leave the railgun
4) Select ??? in the final live selection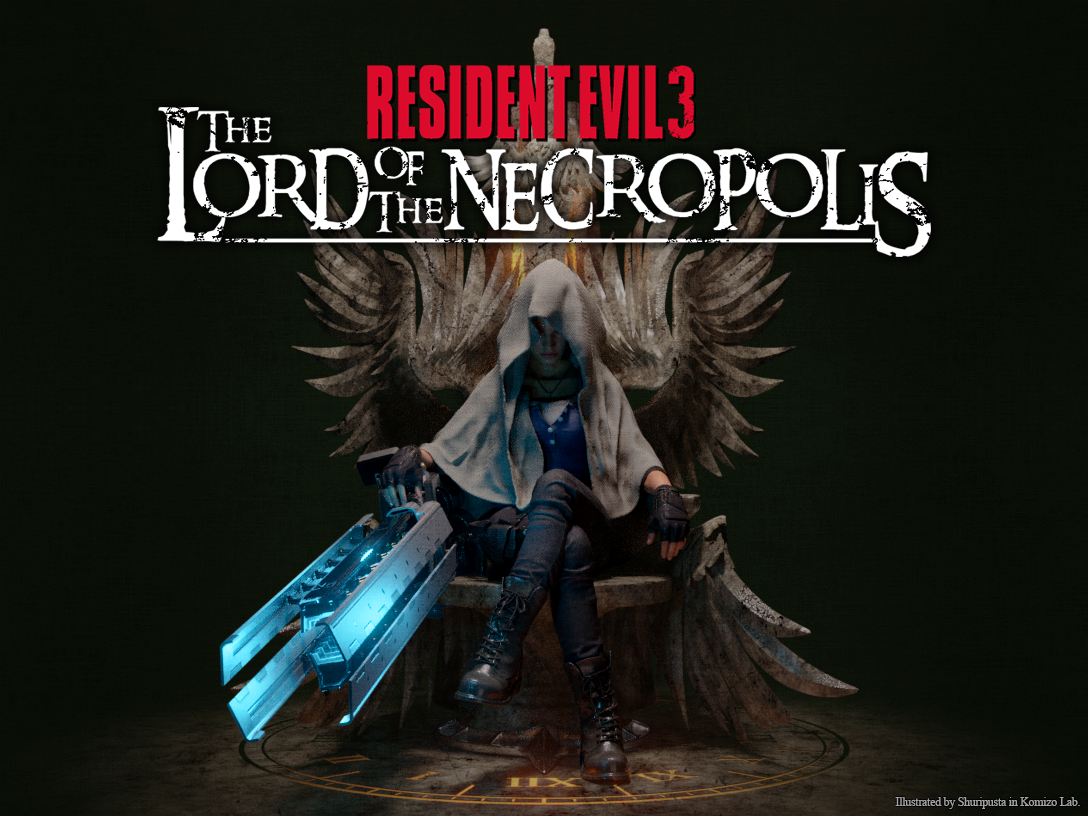 Changes:
[General]
- Changed skin of Jill and the mercenaries
- Added new player's actions - "Tackle", "Back step" and "Side roll"
("Switch target" button + up/back/right/left)
- Added new items
- Changed item locations
- Added new shortcuts
- Added new puzzles
- Changed game progress route
- Ink Ribbon's made from First aid spray
- You can use First aid spray to your partner
- Added new cutscenes
- Added new endings
- Changed Gunpowder recipes
- Changed the results of Live Selection
- Added "EASY MODE" (Check the goddess statue in the alley where you first encounter Dario)
- Added "NEW GAME+" ([NOT EASY MODE] Check the altar after confirming the missile attack)

[Weapons]
- Added new weapons
- Changed weapon damage
- Long range attack do less damage
- Some weapons have new animations
- Combat Knife - increased attack speed and range
- Handgun - wider varieties with different features
- More weapons can deal critical damage
[Nemesis]
- Nemesis is hooded to hide his monster-like appearance
- Nemesis moves faster and becomes more aggressive
- Nemesis gains a high level of evasion skills (after Downtown)
- Nemesis's attack do less damage
- Nemesis gets Infinite Rocket Launcher
- Nemesis breaks into the safe rooms
- Nemesis drops a Rocket Launcher when he's defeated
- Added a gargoyle statues that interfere with chasing
- Added Hide-and-Seek
- Nemesis second form runs like a beast
[Enemies]
- Changed skins
- Changed enemy locations
- Increase the number of enemies
- Some enemies move faster
- Some zombies aren't staggered by Jill's dodge attack
- Added some types of dangerous zombies
- The coordinates of some enemies are not fixed (Police station)
- Increased variation of some enemies such as Hunter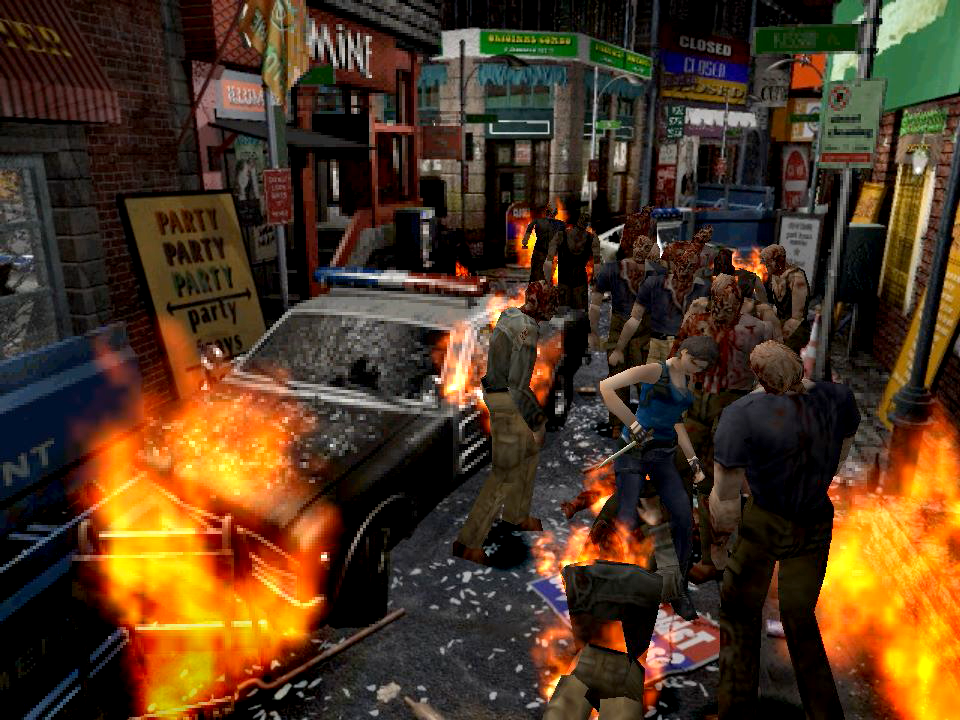 Updates :
[ version 1.0.0 (April 18th, 2021) ]
- First release
[ Version 1.1.0 (October 24th, 2021) ]
- New title screen
- Expanded the police station stage
- Added a new route after jumping off the cable car
- Added a fence in the battle with Grave Digger
- Added a new action, "tackle"
- Added a new hidden skill, "Time Stop" * NG+ ONLY, Conditional
- Added merchants who can exchange items
- Added new shooting objects (generator, flour bags)
- Changed in the landscape of the city (No more Boulder!)
- Bomb explosion do less damage
- Change the appearance of zombies (Police officer zombies may run, Red zombies will not stagger)
- Increased aggression of some Zombie dogs and Hunters
- Added strategy clues related to traps and puzzles
[ Version 1.1.1 (November 1st, 2021) ]
- Fixed some bugs
- Increased rate of fire (Sigpro SP 2009)
[ Version 1.1.2 (November 25th, 2021) ]
- Fixed some bugs

Required:
1. [DVD-ROM] BIOHAZARD3 PC (SOURCENEXT, 2006) for Windows XP/2000
2. PC the above software can be run on (I used Windows10 64bit PC)
- The game can be started without the disc, but some data is missing and the movie cannot be played.
Download:
- You can download the ".zip" file from my ModDB page. ("Files" Menu)


Installation:
Please note that I assume no responsibility if a problem occurs.
1. Full install BIOHAZARD3 from DVD-ROM.
2. Download ZIP file of the MOD.
3. Delete "rofs01.dat" to "rofs15.dat" in your installation folder. ("...\CAPCOM\BIOHAZARD 3 PC")
4. Copy over "BIOHAZARD 3 PC" folder in the ZIP file to your installation folder.
5. Run "The Lord of the Necropolis_1_1_X.exe" in your installation folder.
6. Start the game from "OVERHAUL" and enjoy playing!
- If the EXE file cannot be opened, change "DisableMovie=on" in "bio3.ini" file.
- If you need English translation, Run "(English)The Lord of the Necropolis_1_1_X.exe".(incomplete)
Instructional Video below.
Cautions:
- You need to re-install if you want to play the original game or Mercenaries again.
- Please confirm the game is started with "The Lord of the Necropolis_1_0_X.exe", or many errors will occur.
- This MOD is not officially compatible with Gemini's "Resident Evil 3 Classic REbirth" patch, but it may work.
Please confirm "Remove doors: OFF" and "Enable Japanese: ON" when using the patch.
Bugs that occur only in the patch may not be fixed.
For MOD Creators:
Please give credits to me when reusing my works for your MOD. I'm profoundly grateful if you share the link to my ModDB or Youtube. I'll get motivated to create new works.
I want to focus on development, so I'm not accepting technical questions related to MOD creation.
After the MOD update is finished, I plan to release technical information in some way.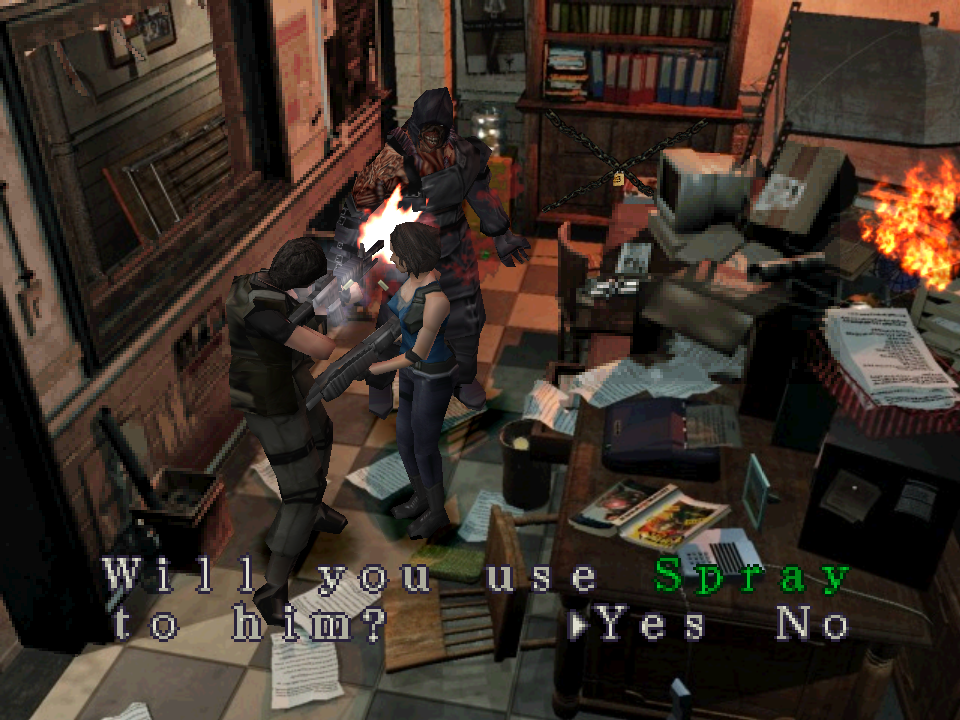 See also:
[Resident Evil 2 (1998) Overhaul Mod] - The Origin of Species
Moddb.com
Credits:
- Mr. So‐and‐So, my old friend (Development Partner)
- Shuripusta (3D Artist)
- Leo2236 (RE3SLDE, RE3CIE)
- MarkGrass (BioFAT)
- Rocket Lawnchair (Bug fix "Sigpro")
Acknowledgments:
I would like to express my gratitude to the people who have given me advice on the MOD design, and also to many other people who have played my MOD.