Hey, everyone.
Renamings

First of all, I want to share the names of the two other mods. For those of you who didn't know, Transition() consists of three Transistor mods, the first of which is Hyperthread().
The second mod is
Overclock()
(That's not actually a clickable link. It's just a screenshot.)
Overclock() is the next mod in line! I'll start developing it once Hyperthread() is safely in beta, and playable from beginning to end.
The last mod is
Pipeline()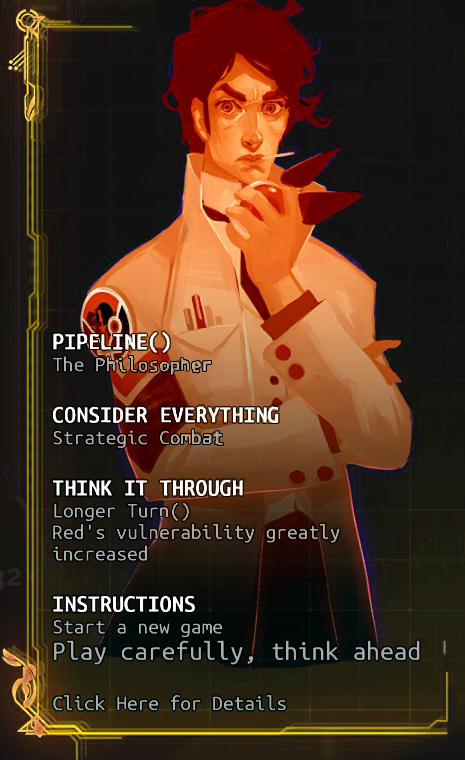 I'll begin developing Pipeline() once Overclock() is in beta, and I have some surprises up my sleeve for this one.

What do you think of these names and mod ideas? Love 'em or hate 'em, let me know! On that note...

Mod Manager
These pictures are what I've made for the new version of the mod manager. They're in-game screenshots that have been cropped and slightly photoshopped, and I think they look a lot cleaner. They also provide more details as to what mod actually does, in case you don't want to crack open a web browser every time you launch Transition(). I'm thinking that the "Click Here for Details" link should either link online to the mod descriptions, or go to a screen that looks like the "Inspect Function" screen in Transistor. Any thoughts?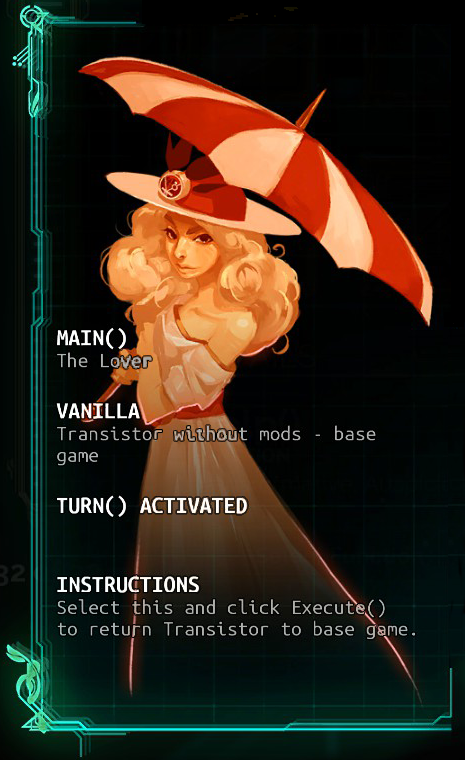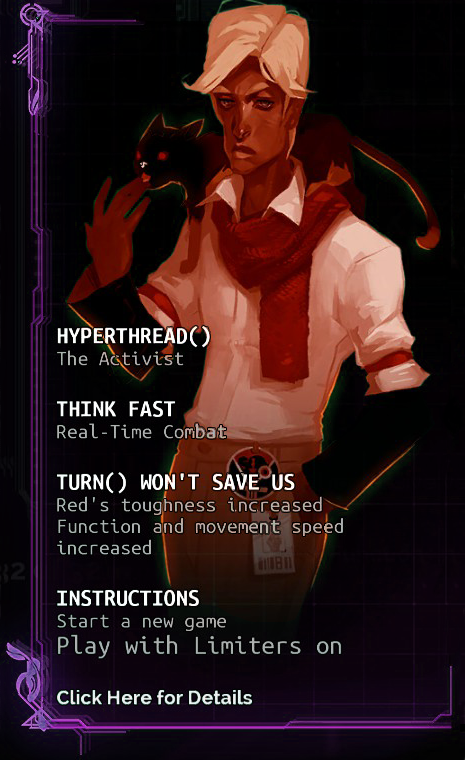 Beta
Right now, Hyperthread() is in public alpha. I have an update coming to clean up some bugs and balance, update the mod manager, and so on, but there are a number of large changes that must be made before I'd feel comfortable pushing to beta. Once Hyperthread() is feature complete, albeit not necessarily bug free, it'll be in beta.
Royce and DarkRed have to be beatable. Right now, they're glitchy--technically, you CAN win a fight against them, but more likely than not, they'll just stand still for a very, very long time in Turn().
Sandbox tests have to be recoded for Hyperthread(). Most don't really fit Hyperthread()'s gameplay style, and some simply don't work (I'm looking at you, Planning Tests).
Switch() has to work differently. I have a recode idea (see Trello), but it has to be actually implemented.
UI has to be finished and continuous.
Once these are done, even if gameplay balance isn't perfect or Hyperthread() isn't bug-free, it'll be in beta and it'll be content complete.
Thank you everyone for your time and continued support! You'll see v0.4 coming soon. Stay tuned!