[ - Date of Archive is as listed - ]
Check No#: 3
Year Fraction: 147
Year: 997.M41
Anno Domini: 3147997/M41
[ - Begin Text Archive - ]
Good day, fine citizens of the Imperium! Welcome to another monthly update!
If you're wondering about the expanse in date listings, I've finally caught up with reading the Master Codex after the Administratum chastised me for incorrect date stamps. In other words, I finally got to reading how the 40k dates work in the 5th Edition Rulebook. We have a few words to say, but as we're now going to keep a low key and not give too much of what's going on away, we can only offer one piece of eye candy, and not too much intel.
First on the list is news about the Unreal Development Kit
As some of you are now aware, Epic has released the new Unreal Development Kit (or "UDK").
To quote our pals at Renegade-X:
Renegade-X wrote: The UDK is essentially a free version of the Unreal Engine 3, available for developers worldwide. The kit includes the most updated version of the award-winning engine, with all of the necessary editors and tools to create standalone games. Everything from the ease of use and flexibility of the engine, all the way up to the visual elements have been greatly enhanced in almost every possibly manner.

With the UDK, any developer can make standalone games, without paying a cent. There is also a commercial version of the UDK: simply pay $99 USD, and you can create and sell your own games. The first $5,000 will go straight to the developer - after that, 25% of the proceeds will go to Epic Games. Not only is this great for small developers, but it's a very intelligent business move on Epic's behalf.
Now, much like the team at RenX, RenX40k plans to use the UDK to our fullest advantage.
And much like the RenX mod, there is an extremely large chance that RenX40k will become standalone! This means a simple download is required to play this game; No UT3, no other add-ons! Just the one download!
Second on our intel report is that we have had quite a few applications for job positions over the last two months, although we are still looking for more! We are especially in need of Programmers, so even if you're learning the UT3 engine, help would be very appreciated! The set of job applications are up at these links;
For applicants, all jobs require a portfolio of the work, knowledge of the applications required for them, and a passion for the Warhammer 40,000 universe is a big plus. Applications can be sent to:
contact@ren40k.net
Speaking of job applications, we recently had one from a very talented 3D Artist who goes by the alias of undeadink. He has joined us in our Crusade for a 40k Warfare FPS, and has already began producing some very impressive items! I present to you, the Chaos Spawn; an Elite Infantry unit available to Chaos Forces. undeadink has his own commitments, and has thus not completed the beast, but I think the WIP will still make some of you Heretics out there drool!
Behold!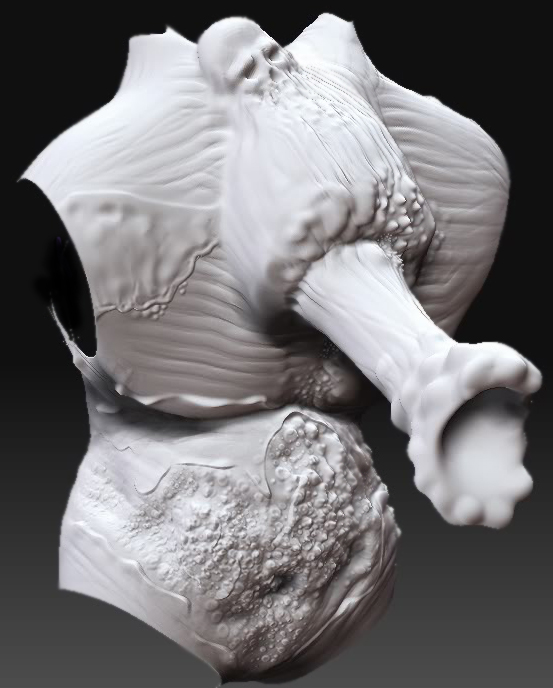 Even in its uncompleted state, I would hate to meet one of these guys!
Finally, there still remains the matter of-
[ERROR - UNEXPECTED END TO ARCHIVE]
- - -
≡][≡
[ - Archive view halted by Order of the Inquisition - ]