It's been almost two long years since Stenches of The Night was released. With good reception for our first game, I (since ZE Gamez is pretty much done) Zombie_Expert will be remaking it with updates, new features, fixes, and more content.
---
NOTE: Originally level 2 wasn't the last level, it originally was going to end at level 3. You get stopped at a roadblock by the military. It is abandoned but you must travel by foot now. Take a shortcut through the cemetery and woods. Find a old farmhouse, the farmer shows you his personal arsenal in his attic. Then the credits role with a video showing you and the farmer running around blasting zombies with fun time epic music playing to fit the situation.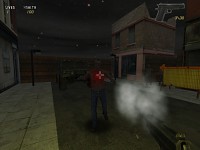 Above are old screenshots from level 2. Now in the remake I'll have all levels in one build.
---
Expect
-More zombies
-More weapons
-More details
-More levels
-Longer levels
-More music
-More voices
-More interactions
---
So my dear fellow zombie lovers and SOTN fans I shall bring you updates when the time comes of this awesome remake. It will take time to get the lighting right, along with battling any little issues along the way. Hope you're as excited as me for this. SOTN is about to become what it originally was planned to be.