Three stages that range in difficulty until all stages are clear. After that you can set the difficulty of your opponent in the options menu where you can also change the controls for your character.
if you press/swipe a direction on the left side of the device, you will block. You will attack if you do the same on the right of the screen.
The game is free but incredibly short, if your dexterity commands, for the benefit of replay-ability.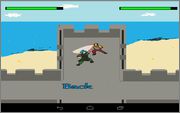 Tell me what you think or what I should add because I have a good bit of time on my hands so I'll be glad to add anything that will make this game better, but I am certainly no artist.
For virtually any Android OS device with Google Play. Play.google.com
Also see my facebook for latest news on other games I'm working on such as being the space captain in a large scale 3D- solar system. Where you control your ship while walking on the bridge, or from an RTS viewpoint! Facebook.com