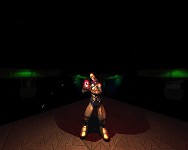 The main goal of this release is to have a bit of fun, but personally i would like to see more people touching code and developing 3d videogames.
Everything in D.R.A.P. is open. Starting with engine (which is idtech4) and going through all the assets ingame. So if you don't like any aspect of the game, you can simply grab GIMP or any other tool, edit and make your work public (or not).
Tune, create your own game or mod, share with your neighbors and have fun!