We have our cowboy. We have our cactus, our love interests. It's all there. Mission accomplished, right? At least, that's what you thought. Johnny Outlaw is about so much more. It's about shooting things with a gun.
What does Johnny shoot? You can't shoot your love interests, so you need something else. You need to dream up something else. You need to dream up the villains. But how do you just imagine a villain and make him real? After today, you will know- for a Johnny Outlaw villain will be created before your very eyes.
You've heard of the "scientific method", but here's something they don't teach you in school: a little thing called the "creative process". With science, your hard work is rewarded with data. With the creative process, you are rewarded with dream fulfillment. I'm not saying one is better than the other; it's impossible to put a price on either. But if you could, then I'm sure the price for dream fulfillment would be higher.
Now I'll walk you through this creative process, and how we make a villain out of it. First we need an idea - a blueprint for battle. Let's come up with a miniboss who sounds fun to fight. We say we want him to be bigger than your average enemy. He crushes things with his size, clobbers Johnny, unleashes devastating attacks. As for appearance, say we want him to be kind of scary, nonhumanoid. It should be clear that he's a threat. And finally we give him a name, a name befitting this enemy's particular temperament. In this case, we shall call him Duncan. Then we turn it over to our conceptual art department.
Concept artists deal with ideas long before they reach the artisans who craft the final product. They let us evaluate what we want that final product to look like, without actually producing multiple complex sprites. To do this, they have to be certified by the Chippewa Indians in the art of dreamcatching. Using special tools, they catch the dreams so that they might make the intangible tangible. They put Duncan into art form; then we can evaluate him. Every time we catch him we get a different image. Here's what we finally decided on for our friend Duncan: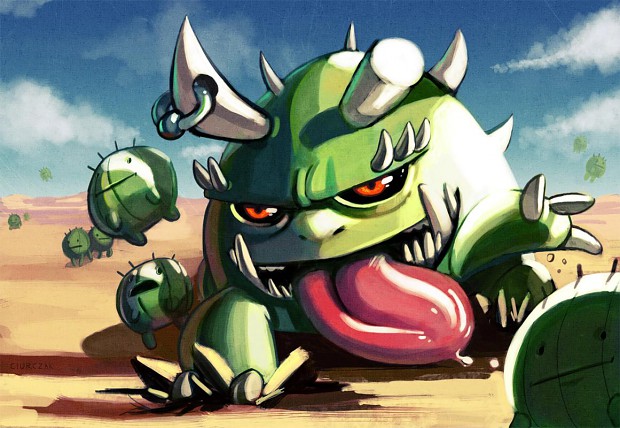 After the concept is hammered out, it goes on to finalization with our programmers and artisans. They're the guys who teach the AI and actually craft the pixels you see on the screen. Now, the final product can't always live up to the original dream. That's just a fact we have to live with. Dreams are limitless and reality is limited. But in the case of Duncan, I'm proud to say that we managed to stay very true to the concept. Behold, in all his prickled glory, the Sultan of Spine, the Prince of the Poke, the Highborn of Thorn, the Third Reich of Spike, his majesty– Duncan!!!
The ferociousness, the terror, the size. Captured and created for all to enjoy. Our artisans really outdid themselves to make this one a reality. It's the miracle of life. And here at Johnny Outlaw studios we do it every day.