Since September 8th 2021, you can buy Star Trek Elite Force II and other Star Trek Activision classics again on Gog.com
HaZardModding Coop Mod for STEF2 608 is here
This major release came a bit late this year and was a bit delayed for various reasons, but finally it is here!

Lots of bugs have been fixed, as a result Level 5 of the Aftermath Episodes is now playable in coop.
There have been a some changes to the menu to further improve the expiriance.



You can now very comfortably crate a dedicated server from within the Coop Start Server Menu!
The issue that did make the game crash was finally fixed. This is big!


I know the EF2 Coop Mod did not get that much attention this year as our other Coop Mod.
But I can give you this promise for 2021 new custom Maps will come to the EF2 Coop Mod.
Maybe with some luck we will finally have some Ideas for the Coop version of Gsi01 his fantastic RGP Enterprise E.


This are the most notable changes in this version:
- Fixed strange behaviour in all Klingon AI with Bat'leth while Patrolling
- Fixed crash when starting a dedicated server from the ingame Menu
- Fixed branchdialog could be executed multiple times by a player, messing up the scripts
- Fixed map coop_aftermath5 crashing
- Fixed crashing when creating a dedicated server from within the Menu
- Added Quick Connect to HZM Coop Server button in the Server Browser Menu
- Added Create Coop Server button in the Start Server Menu
- Added Option to select Server Type Coop
For the full list of changes please have a look at the file download.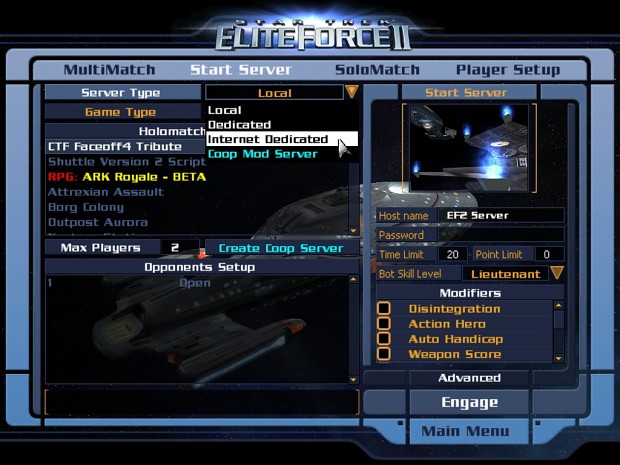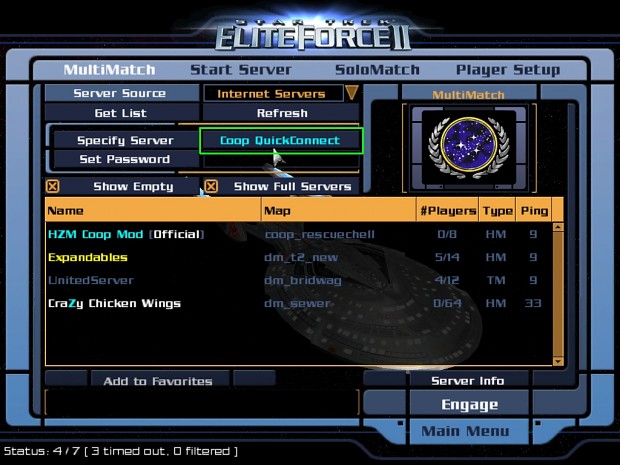 Join us on Discord
We have a Discord server on which most of the magic happens.
You can join us there, talk or even look for other players to play Coop with.
Also we still looking for people that are motivated to convert maps-scripts to coop.
Discord.gg