Hello all,
The initial alpha demo release went swimmingly as far as feedback goes. There's a couple of YouTube videos out there that put a smile on my face and I'm glad the game so far is being enjoyed. I've put a couple of links to them below, one is English and the other is German. Thank you both for creating a video and letting me know your thoughts, I appreciate it.
1# 321Speile [German] - Youtu.be
2# SunzzGaming - Daily Videos! [English] - Youtu.be
I invite anyone else that would like to make a video of Prospect to do so. The feedback helps me a lot with development, and it's wonderful to see someone else playing my game.
Onto the next item, the new version of the 60 Minute Demo; v0.0.2. Below is a list of changes and additions that have been made to make the game a little more intuitive to those playing.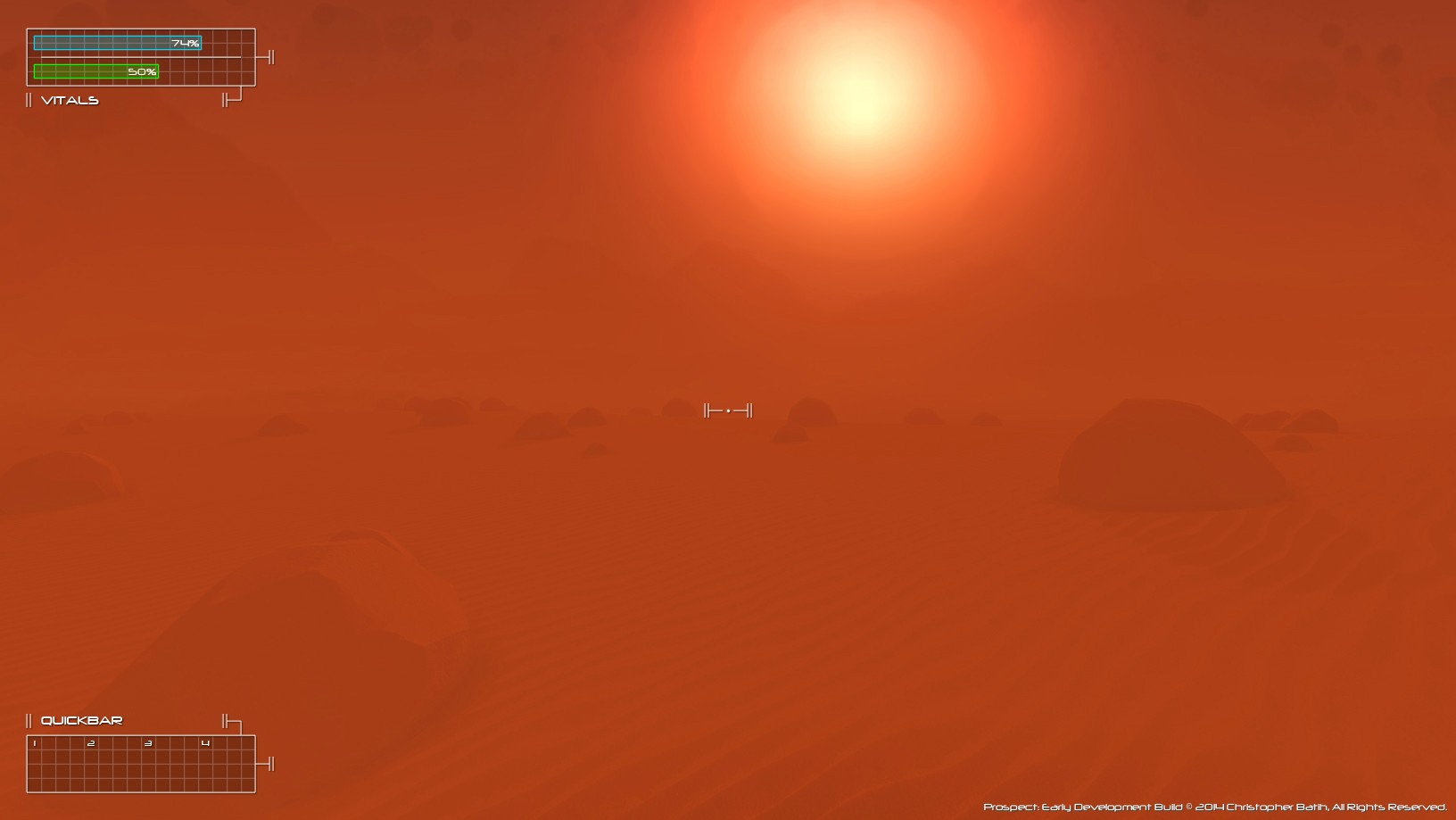 - Inventory now allows for item stacking; some items stack and others don't, such as consumables (Oxygen, Nutrients, Fuel & Power Cells).
- Improved the tooltips and context menus for all objects and items.
- Changed "Link to Suit-OS" to "Link to Map" in Drone context menu.
- Objects requiring connection to another will give a hint towards the required object in the target menu if none are found.
- Fixed the gravity bug causing Jesse to float and giving the impression he can jump. He cannot.
- Lowered the rate at which the Jesse consumes Oxygen and Nutrients, for an extended time between resource transfers.
- Changed "Siphon Resources" to "Transfer Resources" in the Escape Pod context menu.
- Fixed the issue with Context Menus not appearing when an object is interacted with.
- Added an improved pre-game menu and explanation of objectives to clarify what you need to do.
- Added some ambient music to replace heavy winds.
- Decreased visibility a little more by adding cloud coverage.
- Improved the crafting interface: Items you have are indicated in Green and those you don't Yellow.
- Changed the font in the crafting interface so details are easier to read.

If you don't know them, the controls are:
- WASD to Move.
- Tab to Toggle Inventory/Map/Crafting.
- Escape to Toggle Pause.
- F to Interact when prompted.
- Mouse to Look.
As always, I appreciate the feedback. Please report any bugs of glitches you may find, no matter how big or small they are, they're still bugs.
Thanks for reading, lethal_d0se.