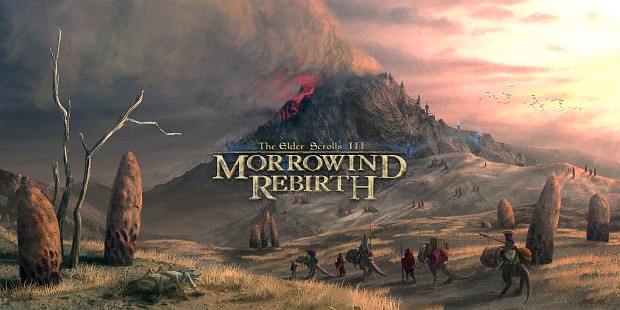 Hey guys! We're back it with a new update, and more fun stuff! This update includes a plethora of changes including a revamp of all Dwemer ruin interiors, new Dwemer items, Dwemer Creatures, and much much more! I hope you will enjoy what Morrowind Rebirth 5.7 has to offer.

On a more personal note I just want to share that I'm to become a dad, which realistically means that I will most likely have less time for modding in the months to come. With that said I expect things to get back to normal once we get the ropes of parenthood. Until next time, have fun!

Morrowind Rebirth Fixes
* Fixed several instances where placed weapons and armor would have higher durability than their max value. These issues are caused by the fact that vanilla items that are already placed and owned in the gameworld will not be updated alongside some changes to the base items. This includes for example durability.
* Fixed an issue where one door to Ibarnadad Assirnarari house, in Suran, was badly missplaced making it possible to see into the worldspace behind it.
* Fixed an issue where the Glass Mace had a default durability of 100, which should have been 650.
* Fixed typos.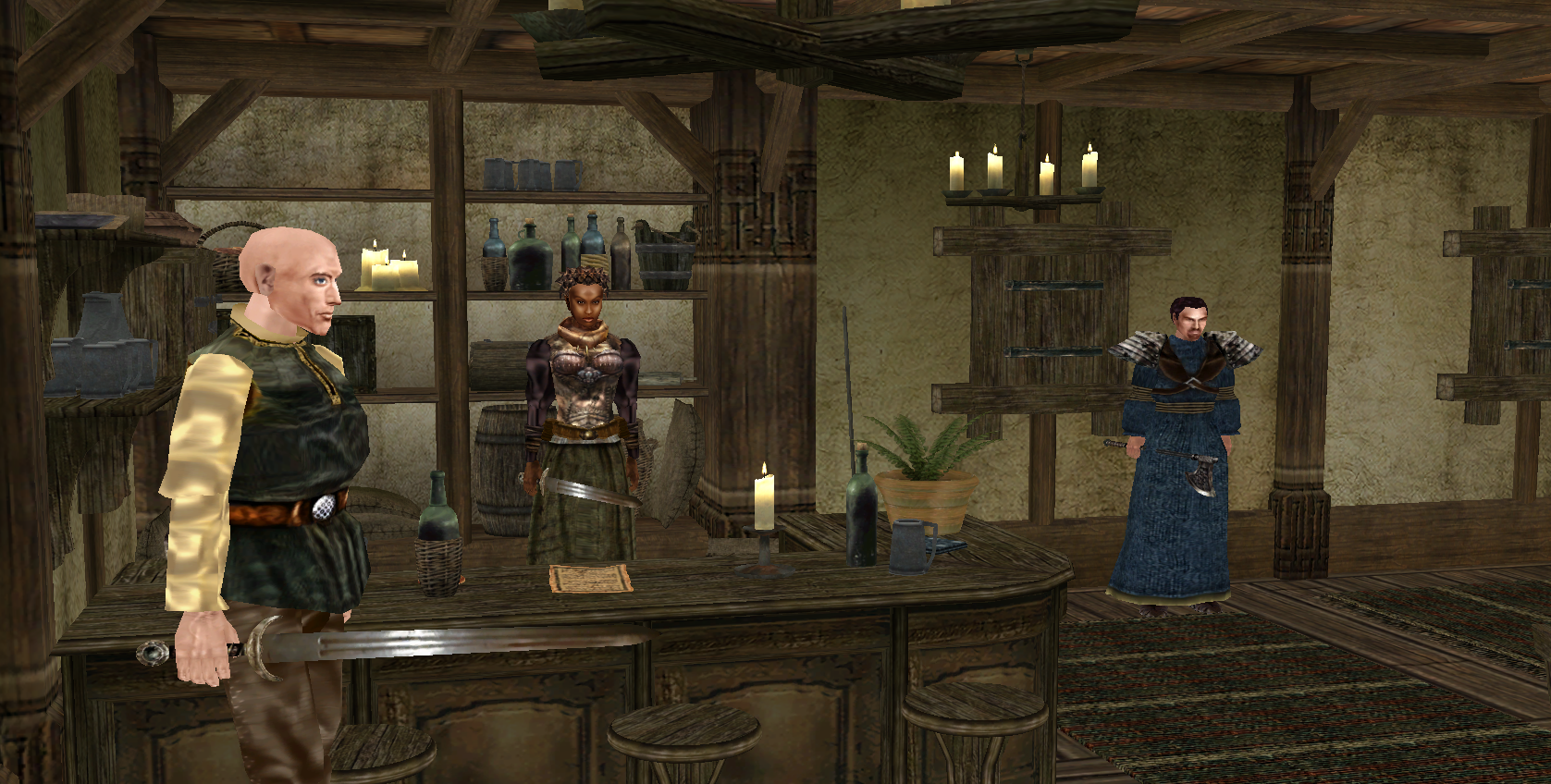 Morrowind Rebirth Changes
* Added a few Potions of Rising Force to 'The Rift', so that the player doesn't accidentely get stuck inside the dungeon.
* Ash Vampires will no longer wander around aimlessly, but stay static (until they eventually turn hostile that is).
* Removed Daedric armor from vendor loot (used to be 1 % chance that they would have a Daedric armor piece for sale).
* There is now a 'hidden' clue inside Ilunibi, Soul's Rattle, to where you can find the Left Fist of Randagulf.
* Additonal changes to the landscape around Mount Assarnibi (a continuation of the work started in 5.6).
* You can now travel from Dagon Fel to Ald Redaynia and vice versa.
* Minor changes to Ahemmusa Camp.
* Landscape fixes and improvements.
* Expanded or added more detail to the following interiors:
- Sadrith Mora, Wolverine Hall: Imperial Shrine
- Balmora, Drolosa Athren's House
- Balmora, Hecerinde's House
- Balmora, Nine Toes' House
- Balmora, Dralcea Arethi's House
- Balmora, Rithleen's House
- Balmora, Tyermaillin's House
- Ald'ruhn, Redoran Council Hall [Still a WIP]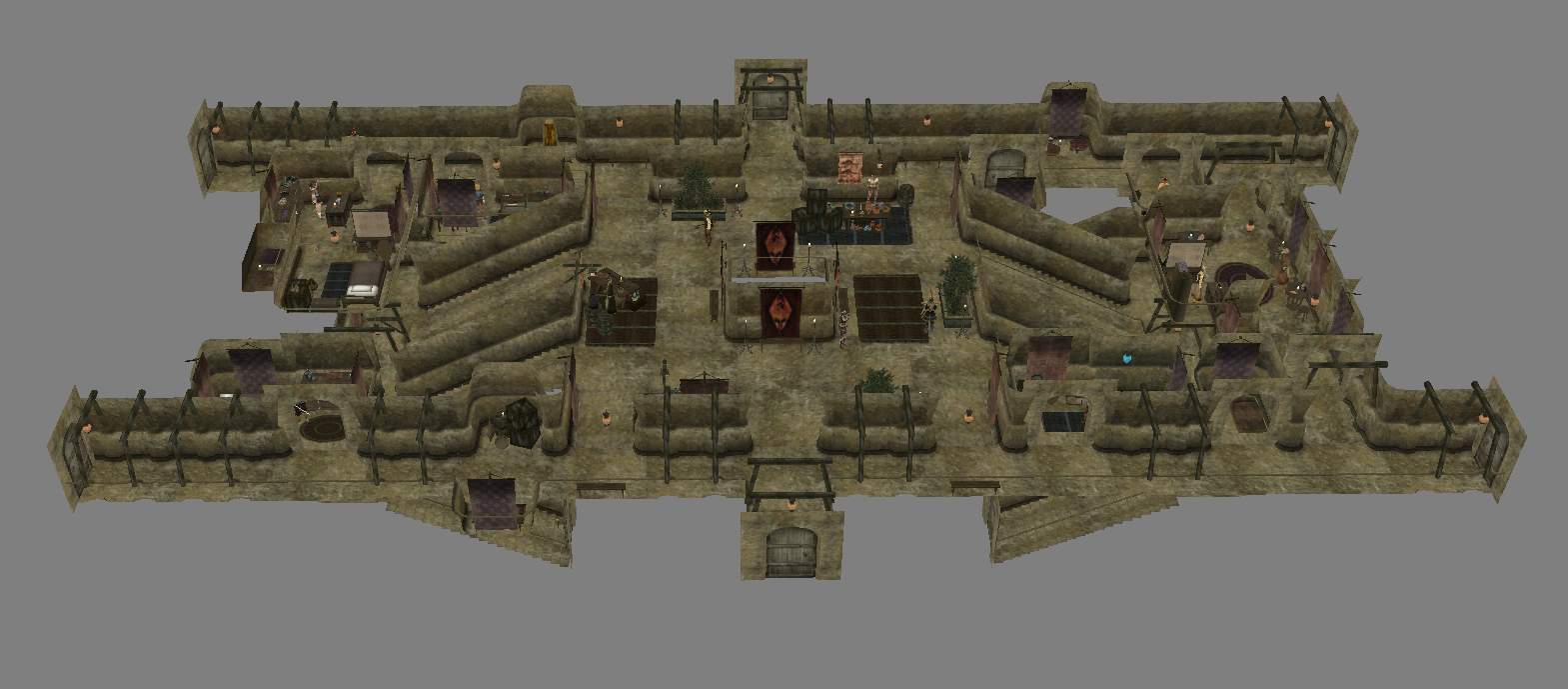 New areas and things to see in Vivec's upper and lower waistworks
Dwemer Ruin Changes
* Made both minor and major changes to ALL Dwemer Ruin interiors, adding more clutter, new items, and in some cases new areas to explore. The following ruins are affected:
- Aleft
- Arkngthand
- Arkngthunch-Sturdumz
- Bethamez
- Bthanchend
- Bthuand
- Bthungthumz
- Dagoth Ur
- Druscashti
- Endusal
- Galom Daeus
- Mudan
- Mzahnch
- Mzanchend
- Mzuleft
- Nchardahrk
- Nchardumz
- Nchuleft
- Nchuleftingth
- Nchurdamz
- Odrosal
- Tureynulal
- Vemynal
- Bthusal (Rebirth ruin)
- Yanith (Rebirth ruin)
* More changes made to the exterior of Arkngthand, making the new additonal exterior pieces fit in a bit better with the surrounding landscape.
* Reworked the exterior of the Dwemer Ruin Aleft.
Vivec Changes
* Vivec's Foreign Quarters, Upper & Lower Waistworks, have been completely reworked and are now much more lively, with more npcs to talk and trade with, and new areas to explore.
Caldera Changes
* Added a lot of new clutter to areas which previously had recieved little to no attention.
Suran Changes
* Made a large amount of changes to the docks, adding more space for boats, two new traders and more varied clutter.
* Sealed off a lot of areas inside interiors, meaning you can't easily access stuff that was meant to be private.
Balmora Changes
* Replaced the bridges crossing the river with walled bridges, making it less likely that npcs will fall into the water.
Redoran Guard Diversity
* Redoran are no longer clones and there are now a large variety of both female/male guards.
* Additonally Redoran male guards will no longer wear skirts.
Morrowind Rebirth Additions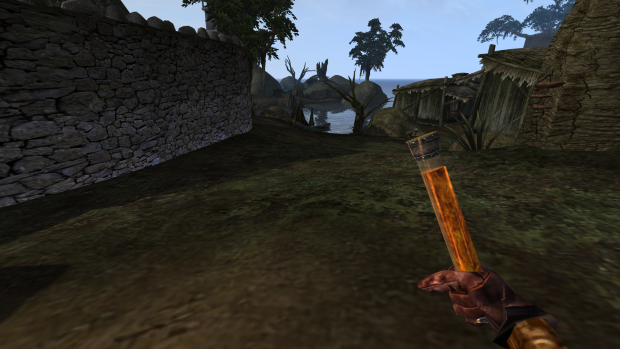 New Weapon
* Dwemer Throwing Vial
* Dwemer Broadsword
New Creatures
* Dwarven Wraith
* Dwarven Phantom
* Dwarven Ghast
New Magic Armor
* Archer's Tunic
* Knight's Mail
* Craftman's Cuirass
* Graceful Cuirass
* Shield of Decay
* Arcane Guardian
* Deflector
* Helm of Command
* Cap of Invisbility
* Ashguard
* Poisonskin
New Magic Weapons
* Piercing Dai-katana
* Piercing Katana
* Lifestealer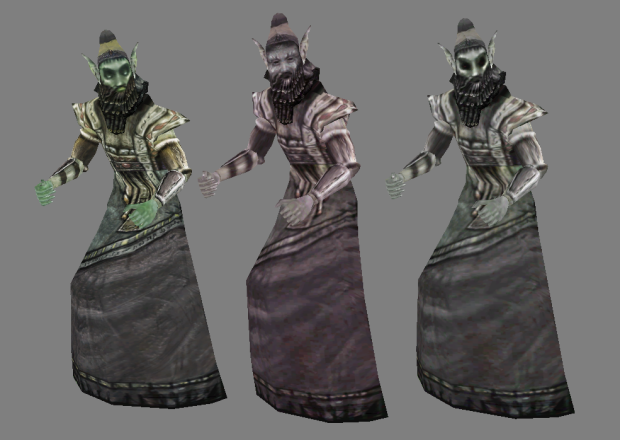 New Misc Items
* Blue Glass Bowl
* Blue Glass Cup
* Blue Glass Cup (alternative)
* Metal Pot
* Grinder
New Magic Clothing
* Amulet of Fire
* Amulet of Shock
* Amulet of Holding
* Merchant's Amulet
* Negotiator's Ring
* Ring of Persuasion
New Misc Items
* Dwemer Disc
* Dwemer Wire
* Dwemer Bar
* Dwemer Spoon
* Dwemer Knife
* Dwemer Fork
* Dwemer Plate
New Spell
* Restore Companion Attributes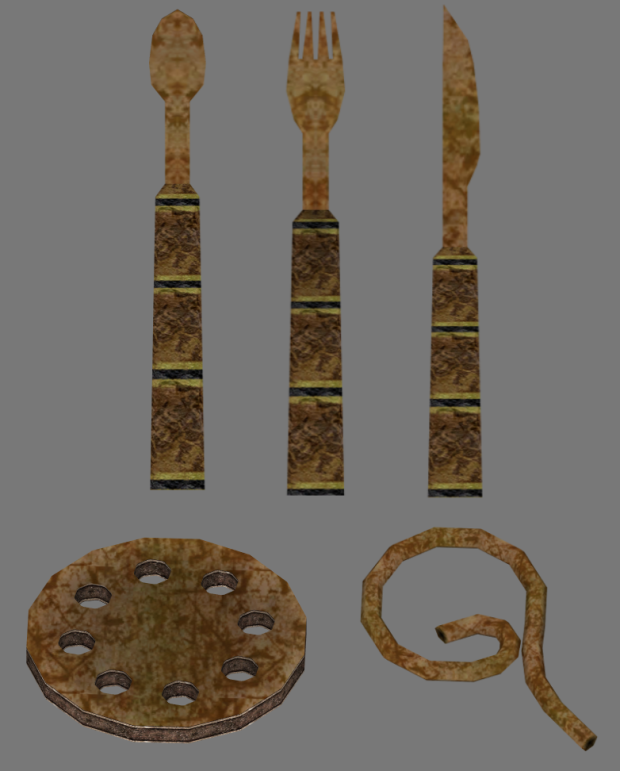 Some of the new Dwemer items
Balance
Armor
* Chitin armor rating from 10 to 20. Also adjusted the value of all chitin pieces accordingly.
Note: These changes will somewhat bridge the gap between high tier and low tier light armor, making light armor less of a bad choise.
Potions
* Telvanni Bug Musk
- Fortify Personality from 20 points for 60 seconds to 30 points for 60 seconds.
Creatures
* Many creatures that are reliant on spells will now regen a very small amount of magicka each second, making them less likely to run away from the player when drained.
* Profane Acolyte speed from 50 to 65.
* Gedna Relvel speed from 100 to 80.
* Barilzar speed from 50 to 65.
* Lich speed from 50 to 65.

Hundreds of graphical fixes

Graphics
* The roof tiles of the new Dwemer buildig pieces introduced in 5.6 will now use a different texture, making them fit better with other vanilla exterior pieces.
* Hundreds of UV fixes and improvements.
* New models for the Imperial Chain Armor.
* New model and icon for the Chapel Limeware Bowl.
* New model and icon for Duke Guard's Helm.
* New texture for the Daedroth 'Menta Na'.
* New texture for the Ebony Crossbow.