Release Date
A Druid's Duel will hit online stores across the globe on February 25 (US time). This is huge news and I am excited beyond words to finally see my game released unto the world! :) You can continue to follow along with me by following the updated website, Twitter, and our Facebook pages.

The game has been in development for close to two years and has grown tremendously in that time, especially since the successful Kickstarter about a year ago. The final game contains more than 130 levels against the AI, local multi-player gameplay or online play for up to 4 players.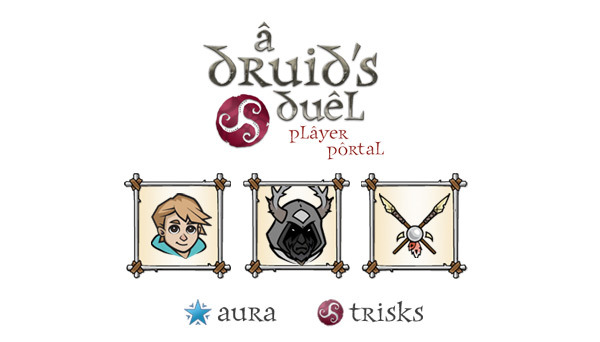 Player Portal
Playing A Druid's Duel online requires you go through a painless registration process at play.druidsduel.com. It's quick and simple and only takes a moment (you could be done already!).Once signed up, you can play an Online Game with any other person who has the game, regardless of if they play through Steam or on any other future platforms (iOS for instance!).
Aura, Trisks, and Rankings
In the Player Portal you can choose any Avatar icon you qualify for based on your Rank (you start at Wolf). You can also learn about Aura, Trisks, and otherwise track how awesome you are compared to your friends, which you also add and manage through the website. The Player Portal tracks all of your Game Stats and averages out your scores and even notes your win-loss streak. Future updates will expand Online play with map ranking, challenging specific players to games, and additional Avatars and rewards.
The How to Play section is pretty robust and explains how you generate Aura and gain Trisks by playing Online Games. It also contains general How to Play instructions, pointers, and videos. Lastly, you can get in contact if you are having problems with the game (or praise!).
This crazy marathon is finally nearing the next stage. Thank you all so much for supporting me and other indie game developers. It is appreciated!
Kris