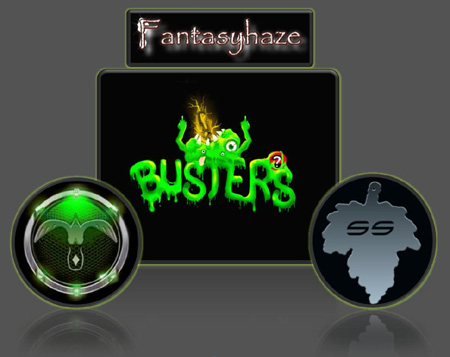 Ghosts and Aliens - call them SNOEYS
Finally after 3.5 years of development we from Fantasyhaze can proudly present you the next part of Crybusters - Mission II - Cryst and Devil, a singleplayer total conversation for Crysis Wars.
We really hope you like it, keep in mind that this is a fan project and has nothing to do with any real game development - it's a product of many man hours, made in free time and with a lot love in detail for all assets. This mod started with one person and ended with one person - as so many projects do -. But with help of the community and a lot of great assets from all team members of Fantasyhaze and of the Crysis community, we created a full mod in the end . At this place I wanted to thank all of my team mates and community members which helped to make the mod. For a detailed Credit list, please check the credits ingame or the help file in the root mod folder.
Video Trailer:
If you want to get some first insight of the mod, feel free to watch the trailer.
Development:
A long time before Crysis was released, in August 2006 team leader David ---___db___--- Berger started the first concepts for Crybusters. At this point it was known as Ghostbusters for Crysis, but after a long mail session with Sony, we were forced to create our own story, and so we did. A few months later Ghostbusters the video games was announced and so we knew why we had to change our story. However Crysis Demo editor was released and ---___db___--- started to map the basics of the mod as you can see in the picture in the end we had to skip many many thing and as you can see in the second pictures. This was a pity but necessary to finish mod we skipped more than 80% as you can see in the second picture :
The mod was started with demo editor and was edited a lot in vanillia crysis afterwards. One day we skipped a lot because the map was much too big, but still 20% stayed whereas only 5% have been used in the end which can be played in tenor_of_energy level now. There are still 3 level which have not been finished until now, but maybe you will see them either in a few months or later on with CryEngine3 as standalone game for free - if crytek will release it as free standalone sdk, mentioned a few days before-.
Story:
Attention! - incomming transmission!
R.E.A.C.T.O.R 1, the communications system of Crybusters broadcast a warning and the Crybusters starts off their machines. Markus, Lucas, Mia and Nasha are awaiting the status report of R.E.A.K.T.O.R 1.
It finnaly informs them that the submitter has the same communication sequence as the submitter from mission I, which was 20 years ago. "Load mission I", Lucas commanded.
Loading Mission I:
Mission I - A Crystmas Story
Christmas Eve, a distress call was reaceived from the Cryham Orphanage by R.E.A.C.T.O.R 1.
The caretaker of the orphanage had called the Crybusters. "The house is a lie! It kills us all!", he had screamed before the connection broke.
Our heros; Lucas, Markus and Mia are now on their way to find out what has happened...
End of transmission I ended loading real world.
Mission II - Cryst and Evil
Christmas Eve, 20 years later Crybusters are on their way to a military station near Fantasyhaze World. Dr. Yelcow sent an emergency call to R.E.A.C.T.O.R. 1 the communication system of Crybusters. After they have review their first mission from about 20 years the found out that this strange orphanage is very near to Fantasyhaze World too. Our heros; Lucas, Markus and Mia are now on their way to find out what has happened this time, and they didn't know but their end is near ...
Features:
Crysis Wars Version
Total converstaion mod
New Menues
New HUD
New Weapons
New Enemies
Totally crazy story
Custom Music.
Design for Very Strong PCs
Installation guide:
[1]Go to your Crysis Wars mod root folder: -> Electronic Arts/Crytek/Crysis Wars/Mods. (if not existing please create the mods folder inside your Crysis Wars root folder)
[2]Eventually backup an existing Crybusters folder with the same name.
[3]Extract the Crybusters folder from the downloaded archive if necessary by using an extracter such as 7-zip.
[4]Copy the downloaded Crybusters folder into the mods folder.
[5]Start Crysis Wars, use the ingame mod loader to load the mod. (additionally you can use the launcher in the Crybusters folder to start the game)
NOTE:You can use this mod only with Crysis Wars Version 1.5 and above.
Download Mirrors:
Mission I is already included in the mod, so you do not have to download and play the first mission separately. It's good to play it because some changes in the story have been made.
-Download @ Moddb.com
-Download @ Crymod.com
-Download @ Fantasyhaze
Related Links:
- Follow Fantasyhaze @ Facebook
- Crybusters - Mission II @Crymod.com
- Crybusters - Mission II @Crysis-hq.com
- Crybusters - Mission II @Fantasyhaze.com
- Crybusters - Mission II @moddb.com
Crybusters MOD Lead,
---___db___---