Greetings,
the long Wait is over, my Christmas Present for all of you, Cameo v1.1 has finally arrived, so lets talk about the major changes, lets go!
3 New Playable Factions from RedAlert2 "AlliesRA2", "SovietRA2" & "Yuri"
(all the credit goes to ElPollo315, thanks for your great work and effort here!)
Alpha complete balance overhaul based on data from the original game scaled to fit the OpenRA balance
Sim City complete overhaul, Fire & Police Departments now attack like their mobile counterparts and when inside your city also gain the mayor buff also the prerequisites are changes, you can build the Police Station earlier & at the same time as the Fire Department, also the PRice is reduced to 500$ tfor both but they cost money to operate every 8 seconds, S.W.A.T cost reduced from 6000 to 4000 as well as attack damage reduced, Residental, Commercial & Industry upgrade themself without Architects after some time thanks to the new OpenRA Trait ExperienceTrickler.
Special faction "Custom" now has full AI support & a new Special Faction "All" for those who like it extreme where you start with all 13 faction MCVs
All Factions now gut Super Weapons like Ion Cannon or Nuke Power, thats the third thing that all factions have in common after "Supply Truck" & "Engineer"
New Tech Level: "Unlimited Super", you can have an unlimited amount if Ion Canons and Nuke Weapons
New Starting Cash Options "50.000", "100.000", "999,999"
Game Options:

"MCV Market" for those who like it extreme, you are able to build the "MCV Market" where you are able to buy all (currently 13) available to buy for the hefty price of 9999$
"RA Queues" to make this mod more versatile, you can switch to the production Queues like in RA where you get reduced Build TIme by Building multiple construction Buildings, to make things more extreme/fun i changed the speed increase from max 7 Buildings to reduce the time "100, 85, 75, 65, 60, 55, 50" to max 10 Buildings "100, 75, 60, 50, 45, 40, 35, 30, 25, 20"
"Naval Units" adds Naval units for all CnC based factions

New Units:

RA: naval as well as missing units from countries
Alpha: defensive anti-air structure "Hurricane AA Site" &
heavy armored Vehicle with "Command Turret" that buffs allies nervy and debuffs its target
SimCity: Infantry Units "Firefighter" & "Police Officer"
Zerg: Structure "Infested Command Center" & "Infested Terran"

Heroes: Angel removed House & Field Upgrades, instead Houses and Fields upgrade themself like certain SimCity buildings, they also have 3 levels each instead of 2, also added "Temple" which shoots Lightning in a 20 tile radius when summoned.
all MCV now are labeled as "MCV" this is to simplify things since there are so many factions and new players may be confused whats an MCV and what not.
Zerg Buildings Upgrades overhaul, you select the building for example an Creep Colony and in the defensive Tab you have the Upgrades corresponding to that Building.
Heroes Healing works different now, they do not heal when near the Portal of Heroes but when not attackign for a couple of seconds, this changed so Bot player have the opportunity to heal their Heroes more often.
Changeable Menu Colors, there is a "ALTERNATE MENU COLORS.rar" in the Cameo v1.1 folder with a shrot description how you can change all the game menus from red to 10 different colors.
New Maps have been done from "Natertader2004", "ElPollo315" & myself "Zeruel87"
"Cameo" Tileset: Last but not least, the feature i spent the most time working on, the dream of every Mapmaker, an Ultimate all including Tileset the "Cameo" Tileset which i will expand in future versions, this Tileset not only includes ALL available Tiles form CnC & RA it also adds Tilesets from our Heroes, as of right now Angel (Actraiser) and Link (Zelda: A Link to the Past)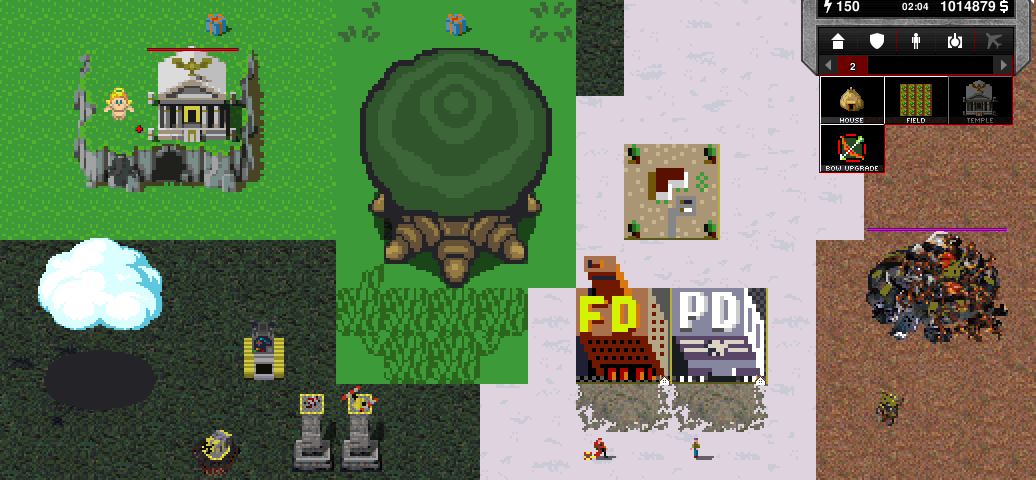 I may edit this Article if i forgot some of the important changes.
Finally after the Modding stuff i wanted to tell each and everyone of you more personal stuff, first and most important:
I started modding as a hobby shortly before my Son was born and kept this hobby ever since.
This hobby means much to me since i was always a huge fan of RTS games, the most extreme thing regarding to be specific RedAlert was, my brother and i love to play Command&Conquer (still to this day) and many years ago we got ourself a second Playstation1 for Christmas just so we could play Command&Conquer Red Alert together via link Cable, thats how much we love this game :)
Now its Christmas and i got the experience to make this awesome mod, (in german there is a saying "eigenlob stinkt" which means 'self praises stinks' but who cares, the mod IS AWESOME :D) and offer it to everyone who wants to play.
Iam still motivated as of the beginning of my modding experience but your interest in this mod and motivating and kind words in the comments, Forum and Messages are the in german "i tüpfelchen", the "icing on the cake", the aspect that just makes me happy.
Easy to Understand, who does not like compliments :)
don't get me wrong, if i make buggy content, mistakes or just find bugy you all should tell as soon as you find them, so i can fix them and improve the mod further.
Now lets just Finish this with Merry Christmas, a happy new year, you will keep reading from me in the comments and messages.


Yours Zeruel87
Until next year Commanders!
gl & hf
Zeruel87