Good evening everyone and welcome to the pre-release briefing for Cheeks of Steel. I'm sure that those of you following, and indeed a number of you not watching, have been curious of the release date for our mod, of which the estimated release date has been changing somewhat over the past fortnight. So, just to clarify for everyone, the release for Cheeks of Steel will be next Friday (26th June 2009). This date is now confirmed, and will not change for the remainder of development.
What can you expect? Well you have probably by now seen numerous trailers and screenshots of the game (if not, you can see our latest trailer here), and have a fair understanding about the aesthetics of the game. But what about the structure, the mechanics of the game? So just to give you a brief rundown of what the released version will contain prior to any patches, here is a list for some of the game's core contents;
- Harry the Hamster playable character
- Tick the Flea playable character (switchable in-game)
- 5 Power Ups
- 5 Pickups
- Critter Enemies
- 2 Boss Fights
- Numerous puzzles and objectives
- Custom Health System
- HUB Level
- Tutorial Level
- 2 'Themed Cages' Levels
- 1 Final Level
The initial level structure can be seen in the image below;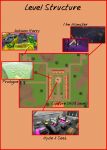 Prologue
The game opens up with an optional tutorial level known as 'Prologue'. This is set within a dream world which essentially introduces three of the four main characters, and explains some of the core mechanics found within Cheeks of Steel.
Capture (HUB Level)
This is the hometown of Harry and Espher, not to mention the centre focus of the game world. Here, the player may explore the town, learn of the final main character, and most importantly the transitions between levels.
I Am Hamster
The first 'themed cage' in Cheeks of Steel, which is inspired by noir style films and games, such as Max Payne and Sin City. This level is unlocked after collecting the first hamster tube, found during one of the tutorials in Capture.
Indiana Harry
This second level is inspired as the name suggests primarily by Indiana Jones, based upon a tropical island, including ruins and a volcano. This is unlocked after collecting four tubes in 'I Am Hamster'.
Hyde & Seek
Once the player has completed both I Am Hamster and Indiana Harry, the stack of tubes in the center of Capture will allow Tick and Harry to escape, accessing the real world and 'Hyde & Seek'. This final level is set in Dr. Seek's laboratory, where the player must travel along several obstacle infested tables, and escape Seek's clutches with their lives.
So there you have it, a brief rundown of what to expect. Thank you all as always for taking the time to listen, and we'll see you all for release on friday! :)