GDI Changes
Repair Bay
Back to release 1 texture.
New portrait\button image.
Predator Tank
Removed (replaced by Medium tank).
Titan
Tool-tip now correctly mentions 'Heroic' rank requirement for 'Shock grenades' ability.
Slight adjustment of firing, hit & damage FX.
Once tier 2 is reached, the skirmish AI will use the Titan in place of the 'Predator' (now medium tank).
AI will now use the 'Shockwave grenade' ability if it gets a Titan to 'Heroic' rank.
A Titan that reaches 'Heroic' rank will now be able to detect stealth, in a nod to its heroic ability in Tiberian Sun.
Humvee
Now uses house colour.
Has 'lights' on night stages.
Now uses the 'ObjectGDI' shader.
Fixed a bug that meant a Humvee set to aggressive stance could attack aircraft that it could not damage, Humvees can now damage all aircraft.
Humvee experience points fixed, previously the Humvees experience was set at the level of a $700 unit, it is now correctly set for a $500 unit.

Taking the above into consideration, the Humvees health is reduced to 1800 (from 2000).

Weapon damage reduced from 36 to 31. Both changes are designed to reduce the effectiveness of early Humvee & Rocket squad spam.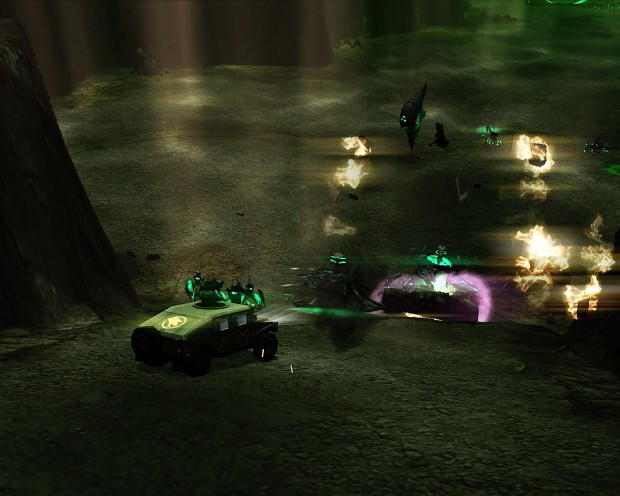 Grenadier
New heroic ability: EMP grenades.

Skirmish AI will now use EMP grenades if they manage to get a grenadier squad to 'Heroic' rank.

New portrait\button image.
Grenades now gibs infantry!
Hover MRLS
New smoke\fire trail for rockets.
Hover MRLS now follows contours of terrain rather than always remaining horizontal.
Fixed a bug that meant that a Hover MRLS could fall through a bridge and get stuck, if the bridge was above a river!
Skirmish AI will now build the Hover MRLS in place of the Juggernaut.
The AI will now use the 'Rocket barrage' if it manages to get a Hover MRLS to the 'Heroic' rank.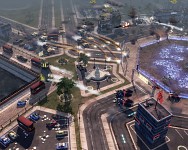 Black Hawk
No longer provides 5000 experience points when destroyed!

10% larger.

Now has house colour & uses the 'ObjectGDI' shader.
General
Railgun upgrade removed (no longer needed).
Additions
Zone Raider Drop

Minigunners
Now use 'tan' coloured uniform.
Medium Tank

Orca Bomber
Price increased to $2000, experience points adjusted to match.

An issue with the Orca bombers lift fans has been resolved.
Legend
Blue = Changes since internal beta.
Green = Changes from trials in the Best of Both Worlds R3.