Hi all! A few weeks ago, I told you about [the new poison Olb] I'm currently working on. This Olb makes the player that it hits poisoned - it's cleverly named :). Furthermore, you may remember one of the main things I learned from working on Olvand: give feedback, avoid mystery. That is, earlier I would simply have made the player poisoned 'under the hood', and then think it would be fun for the player to figure why s/he is losing health all the time. I now know this won't happen: instead of curious, players get frustrated when they lose health and cannot figure out why. Humans need active feedback.
Giving feedback
Introducing such feedback somewhere in the Olvand interface immediately gives me another advantage as well. This is related to two other states the player can be in: frozen and invisible. Unlike being poisoned, it was already easy to see that you were in that state (because, I mean, you were invisible), but not what KIND of frozen or invisible you were: just the regular frozen, or the extra powerful one (created by combining it with the fire Olb), or the one that keeps coming back (created by combining with the poison Olb), etc.
Okay, so we have a number of states the player can be in, and we want to show that to the player. Where would be a good place to do that? For some time I considered hovering it about the player's head like this, like some games do:

This has the downside that it might get a bit cluttered there; I also already show the name of the player above the player's head, and also the healthbar when activated. Furthermore, the player can be in multiple states at once, which will make things even more cluttered. A better alternative? The 'player' tab in the interface: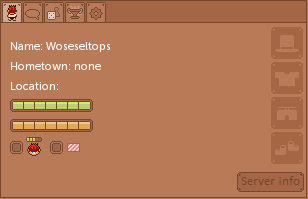 Cleaning up the place
Unfortunately, as you can see above, this tab itself is becoming quite cluttered as well. I originally considered just putting it somewhere at a free spot, like this: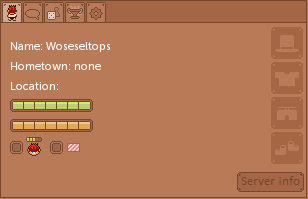 There must be a better way. After a lot of iterations, this is my solution: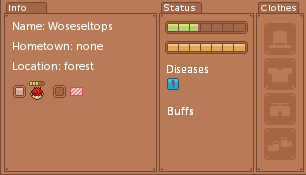 Much better; now I've got separate boxes for general info, state, and clothing!
If you want more development, see [twitter] or [facebook]. If you want to be a tester, you can subscribe on[olvand.com].