It's been a while since the last update and we're delighted to bring a new set of changes to Red Alliance! This is a big update in terms of quality of life improvements. We've fixed numerous bugs & issues as well as brought more balance changes to ammo & resources. We plan to do more updates on the game in the future.
The game is currently on sale on Steam, available at:
Store.steampowered.com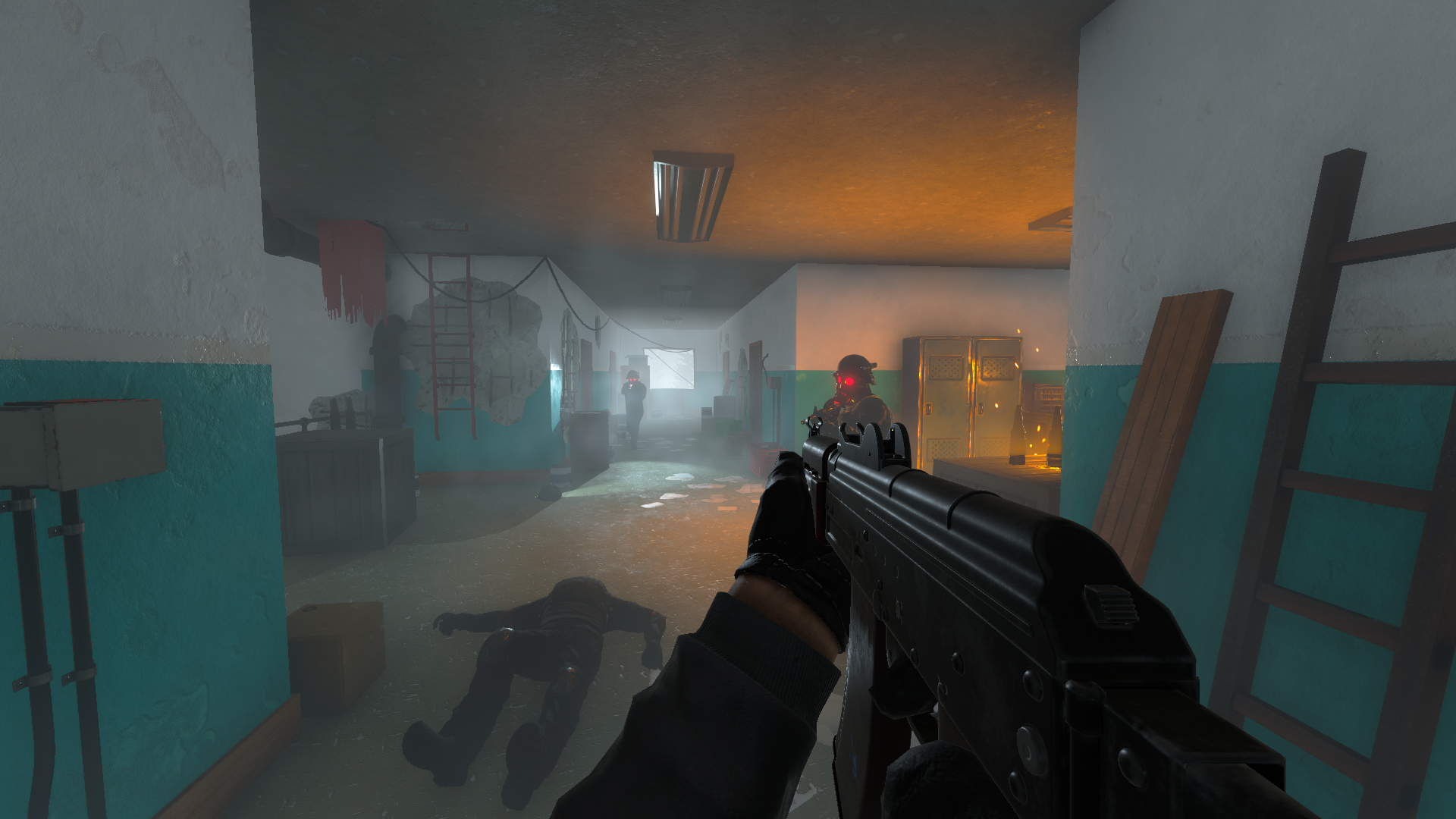 Major changes:
- You can now pick up ammo from all weapon drops instead of just those that match those that you have equipped. This greatly impacts how much total ammo player will end up carrying and makes weapons like Scar-L and AS Val be more likely to be picked up.
- Dropping a weapon will automatically deduct leftover ammo from its magazine.
- Updated Baton animations.
- Player's velocity, as well as objects' and vehicles' velocities are now serialized in save files.
- Added new music to the Outpost battle, container storage facility and laboratories cell block.
- Major code refactoring & memory optimizations, stability improvements. Removed all old leftover network code.

Other changes:
- Explosion Expert achievement now applies only to soldiers.
- Test subjects in the cell block in the final chapter now have more health.
- Improved stealth section in the Outpost sequence of the Red Alliance chapter.
- Gate indicators in the Outpost sequence are now visible on all graphic settings.
- Added a console command to disable video files in the game, to avoid crashing on older hardware. The command is: r_video_files <value>.
- Increased hitboxes of key, keycard and fuse pickups.
- Fixed broken finger bones on all characters.
- Minor level design changes & fixes throughout the game.
- Further ammo & resources rebalances were done.
- Hitting water barrels with baton no longer causes water to leak out of barrels.
- A few new debug console commands were added.
- Minor changes & fixes to Sky-Rush minigame.
- Added internal level counter to help with level change detection (for speedrunning).
- Minor UI changes.

Fixes:
- Fixed an issue where sounds would sometimes play during loading screens.
- Fixed a bug where a player would stand up in an airvent during save loading if he saved there while crouched.
- Spamming Save and Load buttons no longer crashes the game.
- Fixed a bug when a save file could be created while the player is dead.
- Fixed a rare bug when a player would instantly die after finishing prologue level.
- Fixed an issue with "Oppressive Regime" and "Exemplary Citizen" achievements not being unlocked if in local data files they're already marked as completed.
- Fixed screen resolution not being saved in settings.
- Dropped Firefly shotgun is now correctly serialized and no longer despawns after loading a save file.
- Audio in the game is now correctly serialized in save files, including NPCs, music, announcers.
- Test subject corpses in Reminiscence chapter no longer fall through the ground at the start of the level (yes, they were there all this time).
- Fixed fleshy sound being played a few seconds after terminating guards under certain conditions.
- Fixed an issue where gamma settings weren't applied if tone mapping was disabled in the video settings.
- Citizen at the start of the second level in Red Alliance chapter now has collision with the player.
- Fixed snoring sound being played even after terminating a sleeping civilian inside of a container in Red Alliance chapter.
- Reloading a save file with enabled noclip no longer makes player push objects while in noclip mode.
- Reloading a save file during an ending sequence of prologue level no longer makes player fall through the ground.
- Fixed occasional muzzle flash particles appearing for a brief moment when reequipping a weapon.
The game is currently on sale on Steam, available at:
Store.steampowered.com