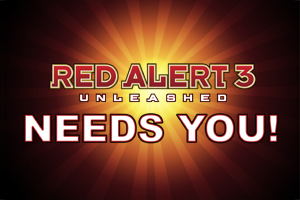 Yes that's right, Red Alert 3 - Unleashed needs you! We are currently recruiting for the post of Concept Artist. If you meet the below requirements, please send a message to one of the MOD Leaders:
Successful applicant must be able to draw in 2d to a high detail. This may be freehand or drawing tablet, but must be able to convert these readily into a PC based format (JPEG/TGA/PNG etc).
Successful applicant will be working as part of a small but focused team. Will have to work to tight deadlines but maintain high level of work.
Successful applicant must be able to take verbal designs from Concept Designer and MOD Leaders and convert into a suitable design, taking account of modelling/animation/texture difficulties and limitations.
Sucessful applicant should be able to commit to a sustained level of work over the period of the MOD (we don't want to have to re-advertise the post).
Sucessful applicant should have availablility on Skype for group discussions with team.
All applicants should submit an example of their work in a PC based format (JPEG/TGA/PNG etc).
All examples of work submitted will be treated with confidentiality and will not be passed to any external third parties. Work submitted must be your own work.
There is only one post at the moment, the successful applicant will be notified and a message posted here. If you you aren't sucessful, please don't let this put you off from applying for future posts.
Closing date for all applications will be midnight, Friday 28th May 2009.
Look forward to your responses!
Phil H
MOD Leader / Artist