Hey everyone,
First off, happy new year eveyone. Let's kick off the new year with some news : Red Alert 20XX version 1.0.3 is ready! The focus of this update is to make the Pacific Shogunate more interesting and more coherent, while breaking the tropes of RA3's Imperial Japan. Of course, there's more than that so let's jump right in.
============================
= Version 1.0.3 Highlights =
============================
Launcher : First things first, the mod is now playable online with the CNCNet Client;
Launcher : The default renderer is now changed to CNC-DDRAW, which should be more optomized and stable to much more people;
Ares : Ares was updated to version 3.0, which should *in theory* make it more stable;
New Unit : The Tengu Zero has been added to the Pacific Shogunate, replacing the regular Tengu :
Tengu Zero
Replaces the Spartan IFV for the Pacific Shogunate

Role : Recon
Weapon : Dual machine guns when in hover mode, Suicide bomber when airborne
Note : It is now equipped with a machine gun, but it can deploy to go airborne. While flying, the Tengu Zero will kamikaze on its designated target
Credit : LEGO
New Unit : The Raijin Tank has been added to the Pacific Shogunate, replacing the Samourai Mech :
Raijin Tank
Replaces the Apollo Tank for the Pacific Shogunate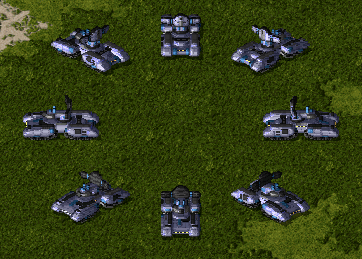 Role : Tech Tank
Weapon : EMP Sonic Beam and AA Sonic Beam
Note : It is equipped with a EMP sonic beam and can attack aircrafts
Credit : Crazy Bird/Creator (exclusive voxel for RA20XX)
New Unit : The Icarus Raider has been added to the Pacific Shogunate, replacing the Imperial Soldier :
Icarus Raider
Replaces the Rocketeer for the Pacific Shogunate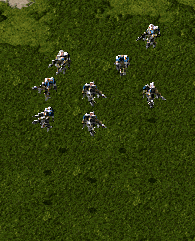 Role : Recon + Airborne infantry
Weapon : Heavy machine gun (versus infantries) and Micro-missiles
Note : A flying battle armor more resilient than the Rocketeer and more effective against vehicles and buildings
Credit : Machine
Unit change : The Ballista Howitzer and Ballista Ace have a new model :
Unit change : The Hercules and the Ulysses have a new model :
Unit change : The Allied Cargo Plane has a new model :
SW change : The Atlas Cannon's animation was redone and rebalanced to be more useful :
Other notewhorty units changes : The Dragoon is now equipped with new weapons. It uses a heavy machine gun and dual EMP missiles with long reload time. The Leviathan Fortress has a new, more fitting, voice. The Apollo Tank was rebalanced to be less overpowered. Its weapon is now a proper sonic weapon, like the Disruptor was in TS;
Music : Themes were added to both sides;
...their flames will spawns fire particles...
...and they will explode in smoke when fully destroyed (and have new destruction sounds) :
New SFX : Bullet and shell casing were redone. The Fallout Cannon now has a custom radioactive shell casing;
New SFX : More vehicle debris were added for the following units : Katyusha, Automata Tank, Ballista Howitzer and Ballista Ace;
New graphic : Buildings and units have a new health bar;
New graphic : The Atlas Control Station has a new active animation, by Yamanekoayf;
New graphic : A bunch of new cameos were made by Kerbiter and SMxReaver;
...and much more! Make sure to read the changelog in the Readme file.
=======================
= Development roadmap =
=======================
I'd like to share - or update - the roadmap for RA20XX until version 1.1. So here is all the "themes" of the updates I have planned until then. Please note that, of course, all of this is subject to change if I feel like it.
1.0.4 - The late game Soviet update. For the next update, I plan on working on the Soviet a bit more since, as of now, I feel like most of my efforts went toward the Allied faction. So expect a third tier 3 building to choose from for the Soviet : the Bureau of Technology. Also, this will be the opportunity to rework some lack luster or buggy units and to rearrange a part of the techtree. Of course, expect a few updated models for Soviet units too. At this point, most of the SFX will be final;
1.0.5 - The subfaction update. In this one, both Allied and Soviet side should be 95% finished and polished, so most units should be in their final forms. The biggest content of the mod will be that all subfaction will have one new unit, building... or superweapon. At this point, I'll start polishing the AI to integrate most of the new units, and I'll start to edit the CNCNet Launcher's option a bit. I hope to update even more models with this update;
1.0.6 - The launcher update. RA20XX should be in its final form before this update, so all that's left to do are mostly adding more options or game mode to the mod. I'd like to reactivate the campaign, for instance. Aside from the final optimizing, content wise, all that should be left to add are the four Stolen Tech units.
After, I'll be ready to seriously start working on version 2.0.
=================
= Youtube Media =
=================
Some video of the mod have been made by youtubers :
First, a video (of 1.0.2) from zoom3000 :
And here's a video by IvanHopper :
Well, that's it folks, enjoy the mod!