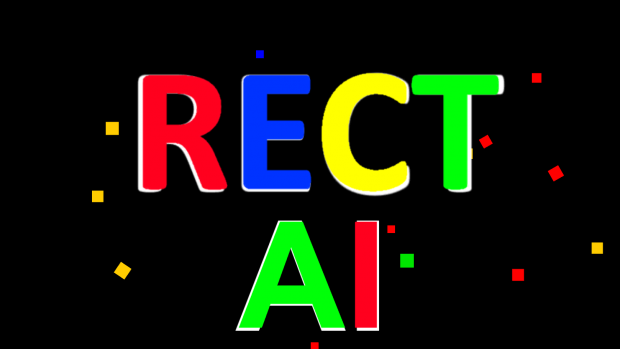 ---
One of the big features of the new v1.5 of Rect is the improved AI (Artificial Intelligence). A change which seemingly none of the testers had noticed. But why is that, and is that a bad thing? I don't think so. The reason is that the improvement on the AI wasn't in the Pathfinding-algorithms or in the Decision-making process. The improvement was making the AI think more like a human, more lifelike. And that is not an easy task. The reason why I think it isn't, is quite simple: making a perfectly working (unbeatable) AI is not that difficult, because the computer recieves all the information instantaneously. All the position of the players and the powerups, all the tendencies how each people play, even their inputs. And making decisions based on all the information is not that hard. It needs a tonne of great algorithms, from which point, it's capable of everything. But some problems emerge. What happens when multiple perfectly playing AIs are figthing against each other? We're given a boring match as all of them will make the same, evidently most optimal decision, thus getting stuck in a repetitive cycle. And that is not what Rect is. On the other hand, what happens when People are against AIs. The AI wins as it's able to do the correct decision when people can't. And that is the point. People are imperfect. Making every turn unique, and creating a great experience. So in order to make the AI enjoyable to play with, or just have as a filler, we need it to be imperfect. And that is what requires the intelligence part of the AI. To pretend, that they are Human. To be able to loose, and to rarely make the right decision.
I think, we succeeded. As the video below shows, the new AI isn't just a great filler when there are less than four players in the game, but even when four AIs are up against each other, it makes an entertaining and exciting match to watch.
We are also planning, with the implementation of LAN support in the 1.6 version, to conduct a few experiments with players, maybe even an ingame Turing-test, when the players don't know if they are against a player or an AI. But what else is coming with v1.6? We can confirm the arrival of a new game-mechanic, which can be a gamechanger for those who love to move quickly around the map. We are releasing a few new maps with the new mechanic, especially built for that. We are also working on new powerups, both on new projectiles and on more technical ones. To uphold gender equality, we already implemented fourteen new female AI names as well.