WHO ARE WE

Imperial Splendour is a major overhaul mod for Empire : Total War.

Focusing on the XVIIIthe century, our goals is to rework both Campaign and Battle gameplay to offer a more immersive and historically accurate experience of the game.

For each faction, and according to historical sources but in the limit of the game engine, we intend to :
create accurate unit rosters (Order Of Battle), split into 3 period : early (1700-1720), middle (1745-1765) and late (1780-1800) ;
create accurate technology tree ;
create unique building chains ;
create unique Campaign AI character ;
Moreover, we intend to :
add a new recruitment system based on region and AoR (Area of Recruitment) ;
add a kind of "evolution system" ;
add a new battlemap gameplay, like the one create for Empire Realism ;
add a LoS (Line of Sight) system based on units hiding and spotting abilities depending of terrain ;
modify economic system using building chains and technology to make each faction unique ;
To reach all these goals, we need help.
We are searching for modders to join our ranks.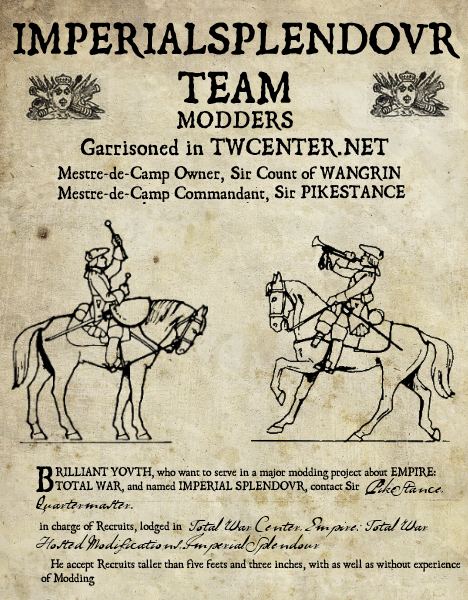 WHO ARE WE SEARCHING FOR

We are specifically looking for 2D artists to complete units for the three time periods.
However, being capable modding the following would be most ideal.

2D artists could have to create :
Model textures :

diffuse texture
normal texture (bump map)
gloss map

User Interface (UI) :

Icons
Info Icons
Portraits
etc.
3D artists could have to create :
Campaign building models (UU3D needed as converter) : Easy ;
Equipments (UU3D needed as converter) : Easy ;
Engine models (UU3D needed as converter) : Easy to Medium ;
Unit models : Easy to Hard ;
NOTE : We can not yet create new Battlemap building, at least garrisonable one, but it is possible to create new non-garrisonable buildings using TW:S2 Assembly Kit, because TW:S2's cs2.parsed file can be reused in ETW and NTW.
DB editors could have :
to add units
to add new technologies and techtrees
to add new buildings and building chains
to edit startpos
IMPORTANT NOTE :
If peoples have knowledge of LUA and C++, it would be possible to expand W.A.L.I abilities, particularly to create a "true" unit evolution system that replace "obsolete" units by new one when reaching a "Army reform" technology.
You can have a look to what is expected by visiting :