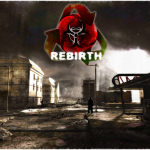 Click above to support our green light page!
As the title states, today's update is short and sweet.
Rebirth has reached the top 100 games in Steam Greenlight, without much publicity or media exposure. I honestly am very surprised and happy to see this, as I really did not expect this would happen without a strong effort to get our name out there. Thank you fans!
To celebrate this achievement, we are working on a small teaser trailer which will include some of the first pre-alpha footage for the game. This will be in game footage, not doctored up for the media, just nicely packaged because our artist is awesome.
We still need support, as I am unsure if being in the top 100 is enough to land us a spot on Steam. If you haven't yet, please head on over to our Steam Greenlight page and up vote our game. We ask for nothing but for you to show you if you are interested in the game! Let Valve know, so we can make this happen! We want to release on as many platforms as we can to get the game out there to the people. Being on IndieDB we also plan to release on Desura (in fact our first releases may happen here). As a gamer myself, Steam has become my game library. What's more convenient than having our game there too?
Our teaser trailer will be released as soon as it is ready. Hopefully rather soon!
Many thanks to all!
-Rico
PS: Please make sure you visit the "Design your own scare" discussion on our Steam Greenlight page. I'd really like to hear your ideas!