Good Morning All!
And welcome to the new HHF update!
Before we get down the fun stuff (which has finally KRAKOOM'd into existence) I'm going to update you on team events, which have been... Eventful to say the least.
Over the past few months, you have probably noticed a distinct lack of... well... anything really. While some members of the team did a little work, others did nothng. Eventually progress ground to a halt. As such, many team members got annoyed at the slack of others. Tension rose in the team until one day, a key member of our team left, KwirkyJ, an avid Halo fan and one quite skilled at UV mapping. This sent a ripple through Broken Line Studios. After Kwirkys resignation, our main modeler (the member who has created every single HHF model to date, bar the CCS) Velo A.K.A Star2Scream left the HHF team, followed by Beta A.K.A B3h47pte (Our main coder and programmer... Our ONLY Coder/Programmer). This then left the team down to me, Overlord Jebus (HODer) and Ringleader (Concept Artist). Even if you aren't that intelligent, you can probably work out that you cannot complete a mod with this kind of team. Velo left me in charge of HHF as he left, leaving me with the responsibility to see this through to the end!
But not all is lost!
Ringleader is also an up and coming texturer and modeler. He even does a bit of mapping now and then. For months now, he has modeled and textured ships, most of the team laughed it away because RL isn't always the most... logical person, ending up with lots of arguments between him and the rest of the team.
BUT I'M IN CHARGE NOW!
So onwards to the fun stuff!
Or Maybe Good Afternoon...
And the horse you rode in on...
As you may have noticed, we have been severely lacking in two things:
1. Covenant Ships
2. Textured Ships
But you see, RL is pretty good at both these things. So for the first time, here is the HQ you've all been waiting for, The Covenant Mobile Colony!
This monster makes itself known on the battlefield, measuring in at almost 5 kilometers in diameter, this massive structure houses vast numbers of Covenant. Aswell as having the living/training facilities to house an entire invasion force, they are equiped with thousands of Covenant Automated Drones that can assemble a Covenant Ship in minutes. This is a very costly process though and one that should only be used if the Colony Ship is under direct attack.
The Colony Ship itself is essentially a large asteroid that was smashed open and had Covenant facilities built inside, as you can see from this picture of the back of it:
A recently added ship which kinda popped up in our own fanon was the Covenant Mover. These drones are a larger version of the Covenant Automated Drone which produce the ships in the Colony. These are used to shift debris from the battlefield and take it back to the Colony Ship. These are invaluable for prolonged battles, reclaiming lost resources of ships destroyed in battle, it just makes sense doesn't it? Doesn' it?!
Doesn't look like much does it?
From behind:
Ah! Now it makes sense doesn't it :P
So that's how they do it...
Everyones played Halo 3 right?
Everyone remembers when you go to the Ark and you look up and you are like OMFG ITS THE MILKY WAY, but there's other stuff in the sky aswell. For example, there's a star. If you have read Ghosts of Onyx, you know the Forerunners were able to get a star into the micro dyson sphere in onyx. If you've played Halo Wars, they did the exact same thing with that dyson sphere. Now here's a question for ya.
How do the Forerunners make/move these stars?
Well, we here at BLS have provided you with an answer.
A Star Forge: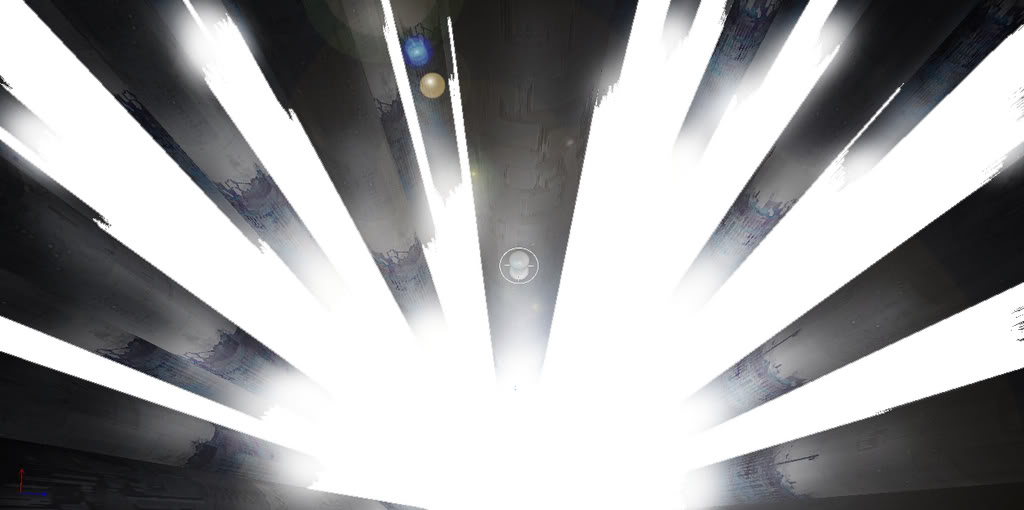 This is what we think an artificially built star would look like. These huge towers would get the fire burning by transporting the necersary materials and creating the conditions for artificially birthing a star.
So that is our Star Forge map. We have many other map ideas in the making, ranging from over Halo to inside High Charity.
Oh and incase you are wondering, your eyes aren't playing tricks on you, there is something else in that picture:
Is it an apple core?
Maybe it's two squids kissing, who knows!
Well we do, we made it, duh...
What you are looking at is the bare bones of an untextured WIP Unyielding Hierophant. Those of you familiar with Halo Lore will know that this station was large enough to house fleets of thousands with shields strong enough to survive a collision with a small moon!
'But however could I fight this thing?!' I hear you cry! Sorry but...
You won't.
Yet another piece of scenery for another map. We really are teasing you aren't we.
Don't Fret!
And so we close another update, don't worry, this technically isn't the end of the update, just part 1. I'm pulling alot of legs and calling up old favours from friends to get as much done as possible. This takes time though. So maybe the next update will be next week, maybe next month, the one thing you don't have to worry about is waiting 4 months for the next update.
Much Love,
OJ