RealRTCW 3.0 Complete Edition:

RealRTCW 3.0 Lite Edition:
Alternative download links:
New! The Dark Army: Uprising Remastered:
(Massive addon based on RealRTCW 3.0)

Download The Dark Army: Uprising Remastered (1.12) - Mod DB
Source code for RealRTCW available at:
If you are willing to support the further mod development, I accept the donations via Paypal
FAQ:
How to install?
(Return to Castle Wolfenstein required. Steam or GOG copy recommended)
1. Download either COMPLETE or LITE edition of RealRTCW 3.0.
2. Unzip downloaded archive.
3. Launch installer and follow its instructions.
4. While choosing install location, make sure you are installing mod into your legit RTCW root directory.
It should look like this: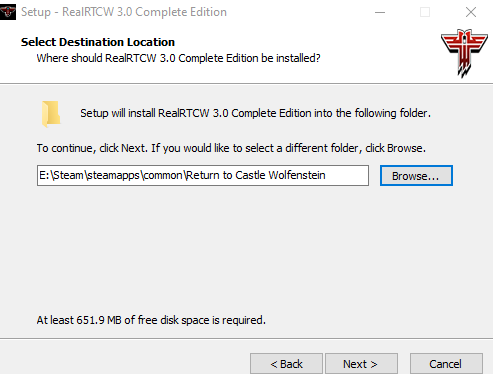 5. Launch RealRTCW using desktop shortcut.
How to play with the controller?
(config added with installer update 23/05/2020)
1. Activate console with SHIFT+ESC
2. Type: /exec xbox
3. Enjoy!
Controller config is located inside Main directory. You can rebind buttons by editing it.
How to activate cheats?
1. Activate console with SHIFT+ESC
2. Type: /spdevmap *mapname* (e.g /spdevmap escape1)
3. This will load map of your choice with activated developer mode. You can use cheats now.
You might noticed that RealRTCW 3.0 now comes in two editions.
Lite edition of RealRTCW 3.0 doesn't include any addons and comes only with one HD pack.
This edition was requested by some users, and I guess its fair to give a people who not interested in custom maps a way to not download stuff they not intersted in.
Complete edition includes 2 HD packs plus 35 custom maps and campaigns.
Yes, you heard that right. Addons support was expanded. I went through every addon for RTCW and adapted best of them for RealRTCW. Adaption includes custom menu, improved UI, rebalanced AI and translated briefings.
Here is the complete list of addons included in complete edition:
A night at the Opera
Alone at War
Ameland
Arkot mappack
SP_Beach
Brabant
Capuzzo
Castle Keep
Clonewars Dilogy
Dark Matters
Devils Manor 2
Dialog mappack demo
Flying Saucers
Ghosts of War
Hidden Wolf
Liner
Mages Skulls
Metro
Operation Evil Eye
Operation Vorsichtig
Pharaoh's Curse
PHM HQ
Project 51
Relic Hunt
Return to Dungeon Master
Saboteur (remastered by vicpas and RDigital)
Skins
Stalingrad
The rate is more than life
The Start
Time Gate
Trondheim Trilogy
Vendetta
W3D Secret
Wotan
I decided to change idea of Realism difficulty level completely. As you remember, Realism restricted your ability to manually save, while capping your health at 50 HP in your fight against Death Incarnate enemies.
Now, restriction of saving was removed. Health cap was lowered to 25 HP and you still facing Death Incarnate AI. BUT health of your enemies was reduced as well(down to 10 HP for most soldiers).
So its more like oneshot game now. Everything depends on your reaction time.
In terms of balance I decided to buff MG42m. It was underpowered in my opinion. Overheat values decreased. Damage increased.
Recoil effect implemented in initial RealRTCW 3.0 release now reduced for all weapons except pistols.
I just felt that I went too far with it.
Armor protection value decreased from 70% to 66% (back to vanilla values). Armor is OP.
Enjoy and have fun!
WolfETPlayer