ReactionLab 2 is an 8-bit particle sandbox inspired by 'Falling Sand' and 'The Powder Toy'. Today, after much work it has finally come out for iPhone (released on Android last year).
Description of the game, quoted from the website:
Let your inner mad scientist shine by drawing elements onto the canvas and watching them interact in real time. Featuring 65+ elements, hundreds of different particle types, and nearly 120 achievements to attain. There are endless creative possibilities and undiscovered combinations. Try to find every reaction, or just build something awesome; it's up to you!

Features:
-- Massive reactions list and over 65 elements.
-- Freely pause and rewind time.
-- Zoom tool with minimap.
-- Save creations locally or share them with others online.
Functionally the iOS port is almost exactly the same as the original Android version, although it does have a few improvements:
A small about menu has been added with links to get more information about the game.
The buttons and bottom panel have a more pronounced 3D effect.
The menus are all much better animated, especially the elements menu.
The share menu has some visual improvements including colored country flags.
Physics performance on iPhone seems to be much better than on Android in some cases.
---
New trailer:
Some screenshots from this version: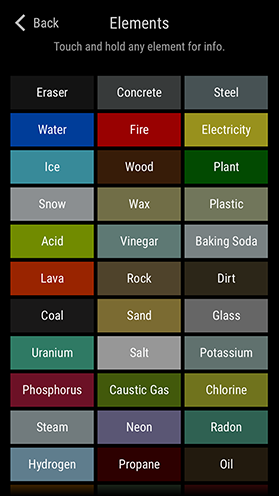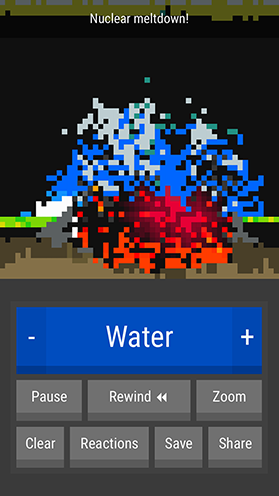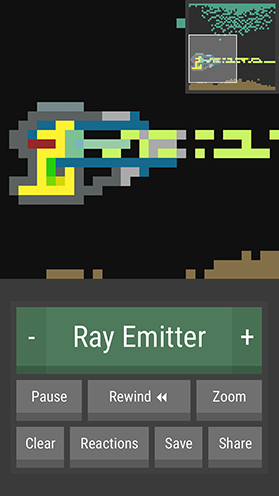 A couple Gifs:
---
The new iOS version is available on the App Store here: Itunes.apple.com
The current Android version is available on Google Play here: Play.google.com
ReactionLab 2's official website is here: Reactionlab.hforsyth.com