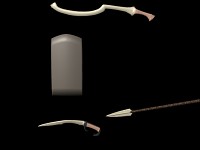 We set up a Kickstarter for our game, to help us get the funding we need to make a good experience for everyone. The model we have now, though it works, is not what we want to give to you guys. It is very rough and doesn't always work. So indeed this funding will help us bring in more changes and speed up the building process.
We have been working hard with the programs we have, dedicating more and more time to the game. We have made almost all of the monsters for the game, aside from a select few. What left to do with them is to texture and animate them.
We have also done more research on weapons and found a good number of resources for concepts and have begun to make them trying to keep as close to what they are based on as possible.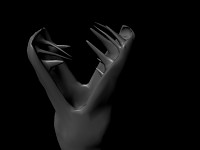 Below is our Kickstarter video. With the launch of the Kickstarter, we are showing everyone we are serious about making this game. We want feedback, ideas, what ever you want to tell us about the game. Through this whole process we hope to keep things as open as possible between us and you the player. We hope to get enough finished for a play test of the game at our local college by late September to early October so we can get information about what doesn't work for the players, and what is expected of the game.
As we go along, we will be putting up new images and videos to show our progress, and to assure you we are making the game and doing everything we can to reach or beat our release date!