I'm surprised that, even though nobody other than myself touched Y4 until its release, I have had very few bug reports (beyond that nasty little run-in with a fatal error on dropping the bomb which R01a appeared to have fixed). Even so, R01b tidies up plenty of little non-fatal bits and pieces that it's worth a release.
However, the real meat of the update is the new Automap feature, which will aid your navigation when the industrial architecture gets a little bit too confusing. Accessible from the Cargo Hold, this schematic view of Facility EY43 and its relevant surroundings highlights your location, the locations of all active objectives, and the location of the repair station at which you'll be reconstructed on sustaining critical damage. Pretty handy!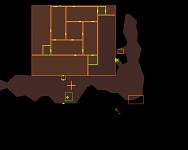 And for those of you that find the game just a little bit too painful, there is now an Easy Mode! Enemies get 70% of their health and the AP-AM's Overdrive ability does a little less damage, so that should give you a pleasant boost.
Well, I think you know the drill. And remember -- all of your unlocks will be preserved to this new version, so you can start a new game on Easy Mode and still enjoy your fancy paintwork.