Ravenous Rampage began a while back as a side project of mine, you see for the last 3 years or so I have been working on another game with my brother, the other half of Alchimia Studios; called Echoes of Aeons. EoA is an epic (at least we think so) ARPG that we are still knee deep in development on. It is coming to mobile platforms in due time... but I digress, that story is for another day. During this long development time I decided to challenge myself. A sort of test of my newly acquired abilities if you will, and a nice break from the day to day grind. The challenge was simple: to make a game as quickly as possible. But it couldn't just be a 5 hr junker app, I wanted to make a fun fully featured game. So I started work on Ravenous Rampage. I have always tended to make little game projects and systems just to toy with ideas and try things out. That's exactly how I created the beginnings of Ravenous Rampage. It started with a simple control setup, two invisible touch areas on each side of the screen, one for attack and one for jump. Once I got the Basic controls in place I started on some basic filler art to get a feel for the direction to go next. After a few variations I settled on a art style I felt fit the game best. While the art took some time (it always does) it happens to be my strong suit so I was able to nail it down.
At this point I was working in 1 hour spurts here and there and it actually felt like I was making good time! The controls began to feel solid and the gameplay was fun, friends and family were enjoying the test builds. All of the little systems started falling in place, health, damage, stats, speed control, color controls, gem patterns, the list goes on… each one being knocked out fairly quickly. All the pieces were falling into place, it seemed my experience was paying off. I assumed at this point I wouldn't have much more to do. Or so I thought...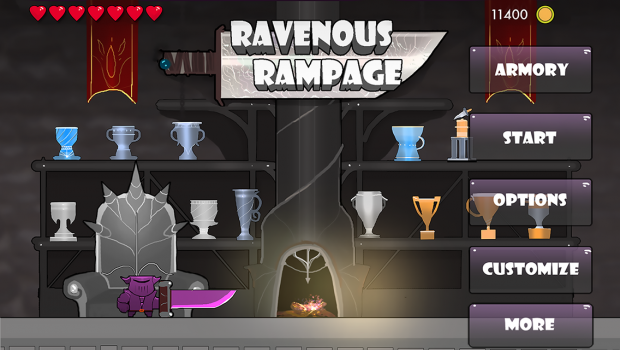 Work continued on the project but hours went from feeling fast to slowly drifting towards the feeling of chipping away at an ice block. September came around and I had this gut feeling, I needed to get this thing finished soon or put I was going to put it on the back burner for a long time.I decided to attack it full force. Bug fixes galore ensued, and of course a nice layer of juiciness and tweaking to get everything feeling just right. Mid September was here and I felt I had a pretty solid game. I decided to start some real testing, I knew bugs still existed, but it couldn't be that many. With that in mind I published a beta build and let a few trusted people give it a go.
The testing sessions proved to be invaluable, bugs a plenty were found and fixed, features that should have been added were added. Things went at a rapid fire pace of implementation, build, test, fix, implement several times a day. Achievements were added, sub menus were added, tweaks were made, the game was hitting a consistently higher quality. By October, I knew the game was ready.
On Oct 12 I finally submitted to Apple's iOS app store. It was a long journey but worth the experience. The game ended up taking longer than expected, but was still a very reasonable development period and I produced a game that I'm happy with. Testers have told me it reminds them of robot unicorn with different mechanics, and that they love trying to get high scores over and over. I hope this rings true in the final release for you all, because I know ones things for sure. I love playing this game.