After several months of training and getting to know fellow students, the game's plot has now moved into the second semester, which turns up the pressure. For one, the dungeons are now getting more dangerous. This video contains a brief introduction to the first combat scenario in the game.
Videos & Audio - Magical Diary Game - Indie DB
The dungeon itself has gone through a few more upgrades from tester feedback. The minimap is cleaner looking and contains helpful reminders of cardinal directions. Originally, there was slight confusion if a spell told you that you needed to go north, and you could only vaguely assume that map-up was probably north. Also, with all the rotations and the possibilty of spells that can relocate or reorient you unexpectedly, it's helpful to have a firm reference to cling to.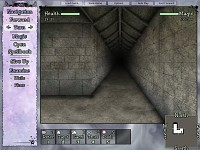 A quick-casting bar has also been added, which is particularly helpful for spells that need to be cast in multiple locations to be effective. We have what we believe is a near-complete list of 76 unique spells at this point, ranging from the apparently-useless (A spell that makes the ambient temperature slightly warmer) to the game-changing (A dig spell that lets you make your own tunnels through the dungeons).
As the school year moves past the halfway mark, interpersonal relationships also begin to settle into their final patterns. By the end of January, you will either be on a character's path or shut out of it for good, and if you've been trying to balance multiple options, you may have to make some decisions. Colliding expectations and trying to juggle two dates at the same time may provoke a few fireworks, but no Nice Boat. This is not that kind of story! However: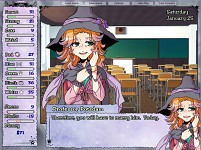 ... it is the kind of story where tripping over magical consequences may force you into a sudden underage marriage. Remember, we're riffing off fanfiction here, and "you will have to marry him!" is a classic fanfic setup. That is not the end of the path. That's only the beginning! (Obviously, this is not how the romance for every character works. Some of them are even weirder. And yes, as promised, there are girl-girl relationships as well as girl-boy. In future chapters there will be even more options. Paths do not have to be romantic, you'll have the option of being Just Good Friends as well.)
Current wordcount is 83,865 and we're still only at the end of January doing the initial dating disasters. Then comes another exam, then Valentine's Day...
In January (real time, not game time), we opened a limited alpha for eager playtesters to get in early at a discount if they were willing to help hunt for bugs, and there have already been over 100 updates to the playable release since then. Full steam ahead! If you want to join now before the price goes up, you will need a gaming computer with an internet connection in order to receive updates, and sufficient technical knowledge to understand the instructions. It's not difficult really.