Quest pre-conditions and maintenances

We need lots of quest related maintenance routines to keep the world of quests in order. And lots of quest pre-conditions to make quest generation appropriate. That's what has been on the table lately.
Quests need to expire eventually regardless of if they have been heard about or not. There needs to be a quest generation interval so that NPCs won't be having their little problems on daily basis but the emphasis of the game will remain in living the character's life in open-ended fashion. Generation of multiple same type of quests needs to be restricted. The number of simultaneously active quests you can get involved in needs to be restricted. It's maintenance routines for all that - and it all needs to be trucking regardless of player's whereabouts or actions.

And then there are quest generation pre-conditions which are very important. Whether the quest engine starts creating a certain quest or not, and whether NPCs are willing to speak about it or not needs to depend on variety of pre-conditions; character's familiriaty and reputation within the community, available NPCs, time of the year, nearby landscape etc. A certain quest may get generated only if the character is somewhat know, has flawless reputation, it's autumn and there's a big lake nearby whereas another quest may require the player character to be a complete stranger but of the same culture etc.
For the future sake I've taken time to make these pre-condition checks easily adjustable codewise.
3 ways to obtain quests, one way to ask about it

After we got all the quest pre-condition checks and maintenances are up and running it was time to finalize and expand possibilities how you actually can get involved in quests. Variety of pre-conditions determine if there are quests to discover, and if so, we've got basically three ways to find about them:

1. You talk to NPC and find out about a quest.
2. NPC comes talk to you and tells about a quest.
3. You talk to NPC and he/she tells you about a person/situation which then might lead you to get involved in a quest.

The basic way, talk to NPC and find out about a quest was already in, and now we've set up methods 2 and 3 too. The third method is the most interesting as we've got a new chat option for it. You can now ask NPCs "How is it going?" - which is a general way to ask villagers how the things are around the neighborhood. If somebody in the village has a quest/problem/information that everyone is aware of they'll tell you the news. These news are often something quite vague which you need to investigate further by yourself.
(A note for the future: Later on this "How is it going?" chat line can be expanded to tell far more information about NPCs daily life than just the quests.)

Here's a bunch of screenies to showcase how things were going in some villages with present quests:

"How is it going, Mr. NPC?" - Example 1

Village sage is doing so good that he can't complain. Oh, and he also has some news to tell: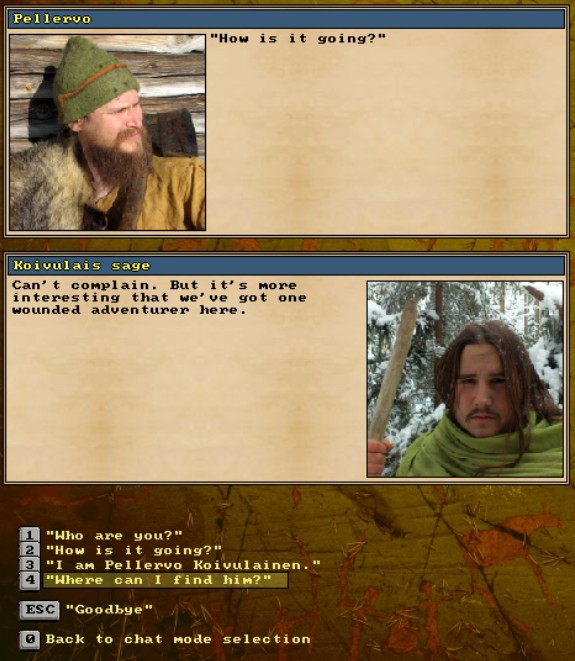 You can then ask where to find the person in question: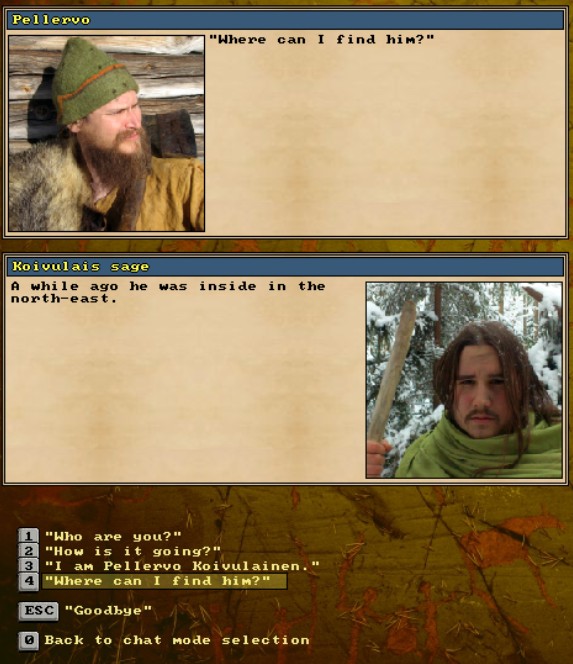 "How is it going, Mr. NPC?" - Example 2

Tribesman tells you about the current mood of his fellow villager: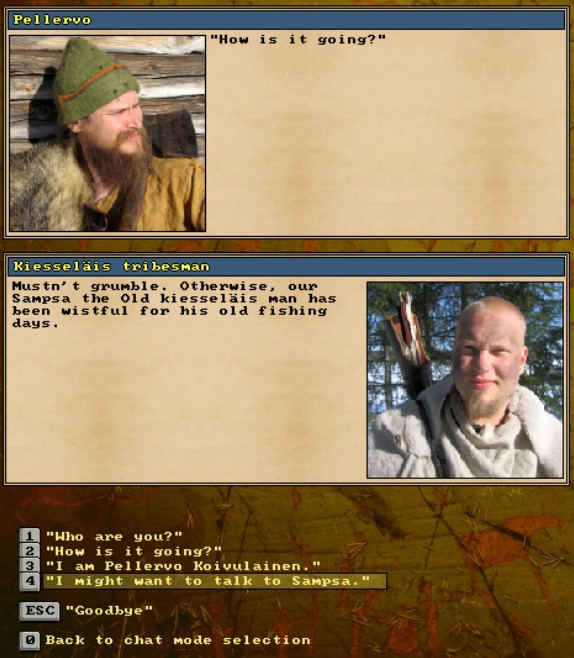 And that old man is around, if you want to have a word yourself: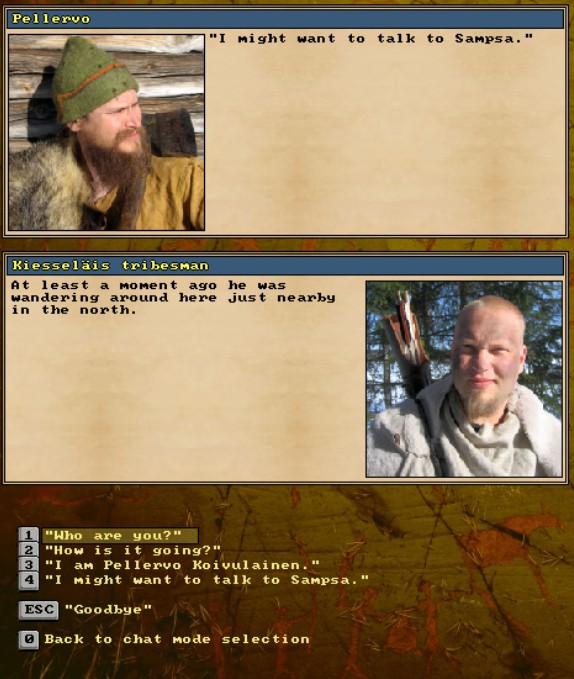 ---
UrW is being developed with your support.
This could be a good day to utilize your squirrel hides and
Donate to support UnRel World development
Thank you!
As a reward and to thank you in return, our characteristic video greetings can be downloaded after placing a donation of any sum.
Our august video greeting, A classic, was recently released for everyone:


...and our current video greeting 'Onwards', a short-movie in Kaurismäki-style,
awaits for those who are able and willing to pitch in them squirrel hides.
If you are a curious, go take a look at our previous Thank You videos at Enormous Elk YouTube Channel.
---
Stay tuned for more -- and feel welcome to join at Official Unreal World forums
for good talks and frequent tidbits about ongoing development.