Puzzledorf has been released on Steam and Humble Bundle! Get ready to start solving puzzles and pushing blocks!
You can see the launch trailer below.
SUMMARY
Welcome to Puzzledorf, the land of puzzles! Puzzledorf is full of vibrant, block-pushing puzzles where simplicity meets surprising solutions. This game will help teach you how to solve puzzles as you go; a puzzle game for everyone.

Includes:
Match coloured blocks to the coloured crosses
Colour blind options
Classic block-pushing + Ice sliding puzzles
Steam Achievements and Local High Scores
Cloud Saves (Play on any PC and continue where you last played)
Different bright, colourful worlds
Mirror Mode
Undo Mistakes
Relaxing Music

Puzzledorf is a fun way to exercise your brain whilst immersing yourself in the vibrant, 2D art.
STEAM USER REVIEWS
"I cannot pin it down but this Sokoban has something." - Thisha

"It unexpectedly pulls you into a world you didn't know you were missing from... A game that calms you and raises your intelligence... It doesn't make you feel stupid; instead, it provides a strange level of clarity, making you instantly feel smarter." - Pweruvian

"This game is amazing! Really enjoying the vibes." - Summoners Drift

"If I were to describe Puzzledorf in one word, it would be 'elegant'." - AP

"Really cute, well done puzzle game, the charm of the graphics style and the super satisfying retro sound effects are great... challenging without being infuriatingly difficult." - Kat

"You will not be disappointed with this little gem of a game." - swcoghlan
STEAM CURATOR REVIEWS
"Puzzledorf is full of surprisingly difficult puzzles that will have you scratching your head up until your 'a-ha' moment. So much love went into this game and it shows. Absolute hidden gem!" - Hands-Off Gaming

More Curator Reviews...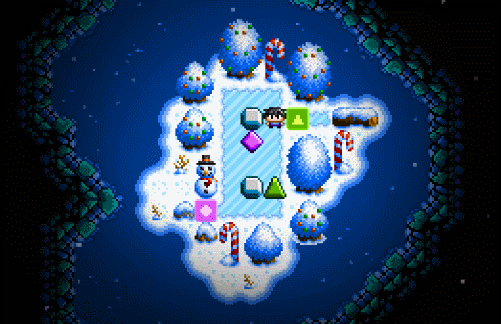 CHRISTMAS UPDATE
Puzzledorf now includes a free Christmas update, adding new worlds, new ice-sliding mechanics, Steam achievements and Steam Cloud saves!