Apologies for the lack of updates last month but we've been busy working on the Alpha version of the game whilst conducting several playtests on our Act 1 demo. Additionally, we've been putting together an application for an upcoming indie show (more on that soon hopefully).
In this post I provide some screenshots of our puzzle interface and discuss simplifications/improvements we've been making in response to feedback.
Game Overview
For those unfamiliar with the game a primer:

Observatorium is a top-down 2D puzzle adventure game where the aim is to cross the ocean whilst creating constellations that merge stars with sea-life.
Basic Puzzle Interface
The screenshot below represents the current puzzle interface for the game: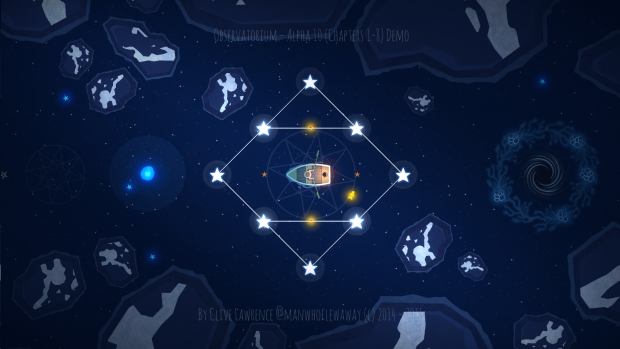 Players use the keyboard to pilot the row boat and mouse to sketch constellations and catch fish.
The Old Approach
Before our act 1 playtests we had a wide variety of stars and sea-life. Some star examples: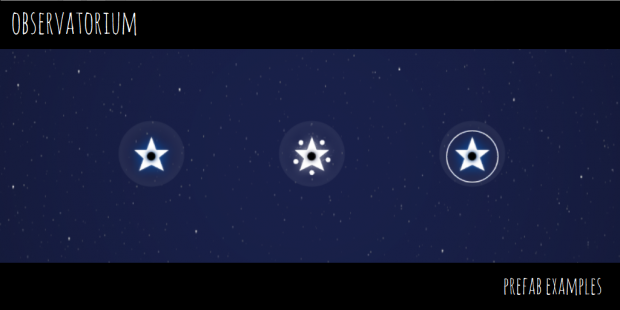 Additionally, we had a wide range of pickups mapped to action buttons that, when invoked, enhanced puzzle gameplay somehow. Playtesting proved that the puzzle interface was becoming quite cumbersome and it was becoming increasingly difficult to convey the behaviour of all of the stars/fish/pickups in a satisfying manner; we were constantly having to train the player in understanding new concepts in levels where we'd rather be testing their knowledge gained so far.
Simplifying the Interface
As a result of playtesting feedback we decided to made the following simplifications:
(1) we dropped down to a single star type (the left star you see above)
(2) we removed most pickups aside from the ones we felt were 100% required for gameplay/story reasons
(3) we added new kinds of sea-life to compensate for dropped star/pickup mechanics (where possible)
A few benefits of this approach:
(1) We can teach the core mechanics very quickly: the stars represent the static elements of our puzzle and their behaviour remains consistent throughout the game
(2) All dynamic behaviour comes from the sea-life - useful as we can introduce alot of character and visual spectacle here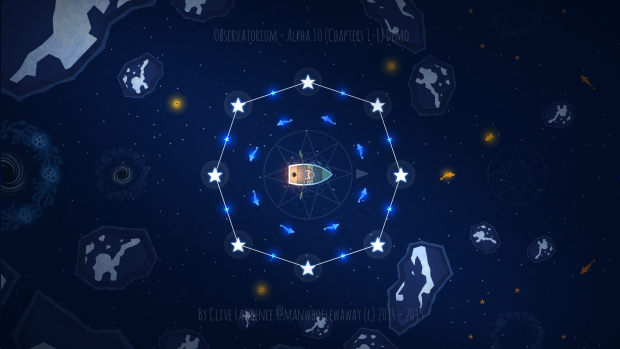 Improving Feedback
Another issue that kept cropping up during our playtests was lack of feedback. Players were occasionally solving puzzles or reaching certain puzzle states while not really understanding why certain things were happening.
One example was the sketch interface. When choosing to sketch from specific stars, certain lines/shapes were breaking and some players were not understanding why. As a result, we have started to add more preview states to the puzzle gameplay so the player can now make better decisions at all times. Below you can see 2 new addiitons: (1) a hover mask which surrounds the star beneath the cursor and (2) the lines supported by this star are now faded: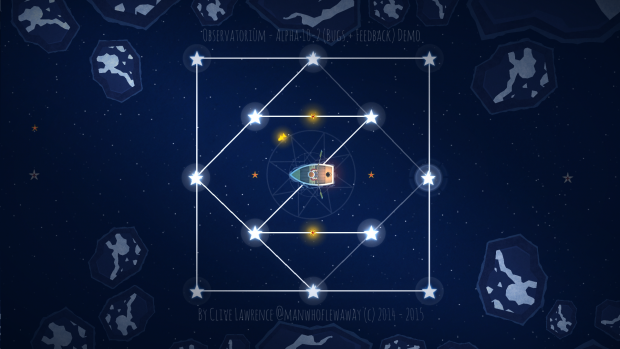 Improving player feedback is an ongoing process of playtesting/balancing for us and some feedback will require improvements to existing art/code/sound or all new systems entirely. We will continue to improve/refine as we construct the remainder of the game and perform additional playtesting.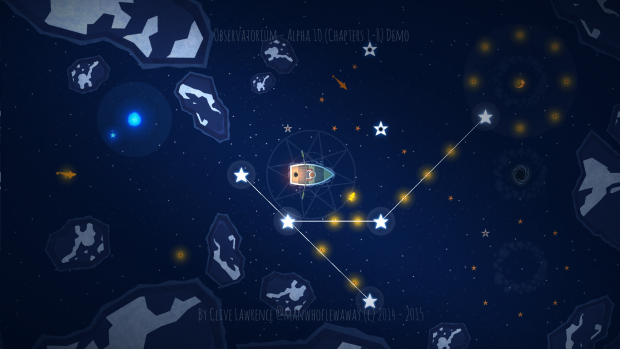 Based on the recent changes, we're confident the simplifications have helped tighten our design are excited to see where this new direction will take us. Puzzle improvements will continue until we have laid down our remaining sea-life mechanics.
Conclusion
That's it for our quick puzzle preview. We will be sharing a gameplay video - and information on how you can get involved with our development process - in due course.
Don't forget to follow the Observatorium art wizards Apollo 2D and PeterSatera.
If you have any comments/feedback please get in touch.
Thanks for reading!
Clive Lawrence
The Man Who Flew Away
Check our other Observatorium news posts here
Check out my recent series of game design tips here