Hi shmup fans and friends,
Psichodelya now has Steam Trading Cards.
Thank you for your continued support. We hope you enjoy the cards. Store.steampowered.com
Here are the details for one card:
Patroling the darker borders of the Pholean kingdom, this scouting ship packs serious firepower. Remarkably nimble for it's width, it's capable of dispatching enemies both small and large, utilizing a range of deadly armaments - from piercing incendiary rounds to implosive double H bombs. When the border is breached, this jet has the perimeter covered.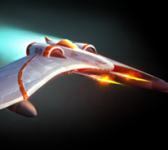 - Gru