Icon v2.0
The feedback I got on the icon posted in the last update was, to say the least, unexpected. Comments flooded in and icons filled my inbox and the comments. Taking all these suggested icons and all the received comments into consideration, I reworked the icon into something that I (and hopefully you) will enjoy much more than the first version. In the new version, I:
--Eliminated any blur around icon edges (for the record, this was more of a byproduct of messing around with GIMP than it was an intended effect.)
--Modified the portal graphic itself. To reflect the new P:SI portal colors, I decided to split the graphic into two parts. In my opinion, this makes the icon much more eye-catching than before.
--Finally, I decided to keep two things. One was the "shine" effect. I know some people don't like it, I know it's a tad overused, but I honestly like it, so it's staying. The second thing I kept was the blur around the portal graphic (although it's now more of a glow, as it was originally intended to be). It no longer looks like I simply resized the graphic; instead, it appears as if the portal is glowing. I like that.
Just as a quick note, I really do like this revision, which means that it'll probably be the one that I stick with (for now, at least).
So, Here It Is: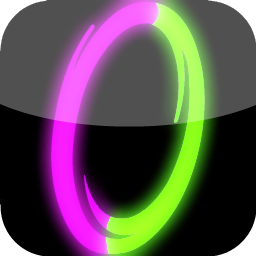 As always, comments, suggestions, and questions are always welcome. Thanks for reading!
Best regards,
WinstonSmith