Whew, about 15 hours until it's time to unveil our prototype! We'll show it at our school around 12 CET, and upload it here online as soon as we get the chance afterwards.
We had a few setbacks, and won't be able to incorporate a boss, but we're very happy with what we've managed! The game is currently just survival against an endless wave of fire demons, but we find it to be surprisingly fun already! We don't know if we'll actually go as far as making this game a full-on roguelike and incorporate all four elements like we'd have liked to, but fire alone was a very fun theme to work with!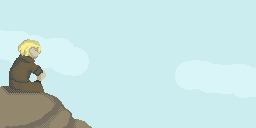 We leave you with a picture of our hero (whose name is apparently Garson, according to the guy who drew him?) sitting on a cliff. We can't wait to share our creation with the tomorrow!