Hey team!

I am very excited to say that the advanced locomotion systems for VR, have been completely rewritten with some pretty spectacular results, and will be coming in a patch very shortly! :-)

The two big things here, are the special jump + tricks, and the climbing system!

Default Controls quick overview:
Walking with trackpad
Jumping with trackpad

Jumping with controller gesture (physics based)
also, combine a trackpad jump + controller jump to do tricks!!!!
Tricks like - Dodging, Doublejump, Speed jumping (time to strafe jump in vr lads!)
To initiate hold down the climb button, move your controllers down quickly and then release the button, you should quickly get the hang of it, it is all about timing the release correctly. You can use this to push yourself in any direction, for extra fun, jump using the trackpad, then dodge left or right!

Full Climbing!
Finally, if there is a wall you see that looks bad ass, you can climb right up that bad boy! Why? Because you can! and it's fun!
You cannot shoot while you are climbing though, so watch your back!

Also use those mad methods with:
Arm Swing
Player relative
Bubble

*note: no more teleport in advanced mode!, with the special jumps, and climbing, it really is not needed...

The default control scheme will look like so: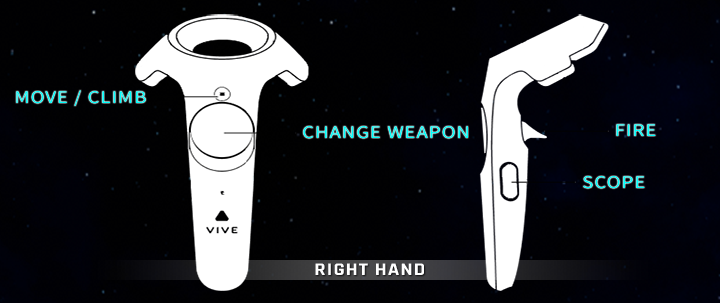 This will be broken down into 4 modes.
Trackpad
Trackpad Lefty
Trackpad with Yaw (rotation done on right hand currently, WIP, if you want it changed, let us know!)
Trackpad with Yaw Lefty

Alt movements initiated with the move/climb button, if your hand is up next to a wall, it will grab the wall to start climbing :)

I really feel that these new mechanics add greatly to the game, and cannot wait to see the mad tricks people can pull.

Very soon guys!