Race-Away has been given some codes to give away for our title "Bounce!". We have decided to launch this new promotion on moddb, so we can give away some codes to our fans.
Promotion:
The rules are very simple, All you have to do is just click track button on our profile and you will be automaticly put into our random draw. For every 200 watchers we get on our profile we will be giving away 1 free copy of bounce!. For our loyal fans that are already on our profile we are going to give away 2 to start off with then at 200 watchers we give away another copy. Then at 400 give away another etc.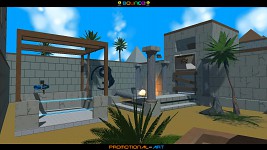 So tell your friends as the more watchers we get the better chance you guys have off getting a copy of bounce! for free :D. So spread the word about the promotion on twitter, facebook and anywere else and if we find members really helping to promote our game we may give you a free copy of bounce! aswell. Feel free to download the Spray from our downloads section and play it in most Source games to help really advertise and get more watchers.
First Two Winners!:
Thanks for reading,
Hope you win!.