At the beginning of this year I started porting Projekt Weltherrscher - Phase 2 over to linux, a task that proved to be pretty tiresome. The game doesn't use some premade engine and for almost seven years coding was only done on and for windows platforms, so moving to linux was a hard task but in the end all the hard work payed out with the game being available for linux too for some months now.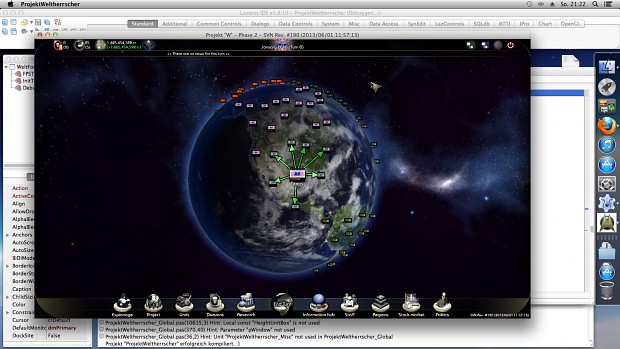 So the next (natural) step is porting to Mac OSX. Those that do multi-platform development know that linux and Mac OSX have much in common (OSX is based on darwin anyway, which is a unix distribution), so getting the game up and running on the Mac platform only took a weekend. The "hardest" part here is to get your hands on hardware running the Mac OSX operating systems, as macs aren't very common over here in germany.
And after a weekend of setting up my development environment on Mac OSX and getting all requirements ready (XCode, the libs, etc.) I only had to change a few parts of the game's code to get it to compile, link and run on Mac OSX.
A few things differ from linux, like getting display modes, changing them, going fullscreen and creating the rendercontext. But getting these to work shouldn't take ages.
So stay tuned for an upcoming Mac OSX version of the game!
In other news, releasing the game on Desura was really worth it. Tons of downloads and lots of (mostly) positive feedback. Thanks to all those that play(ed) the game and send me their feedback. The bugs that you guys have found (problems constructing ecology buildings, projects not advancing) are already fixed and will be included within the next release (which may be release this weekend, no promise) ;)